Finding the right office cleaning services can be difficult. You likely have an idea of what services you need, but when you look at your options, it can be challenging to tell services apart.
After all, they all claim to have exceptional customer service. They all have years of experience. And they all have testimonials that speak to your needs.
To help you meet that challenge, we've compiled a list of the top office cleaning companies and highlighted some of their specialties. This article will give you a better idea of the company that's the best fit for your needs so that you can make your decision with confidence.
The 7 Top Office Cleaning Services for Your Building
Each office cleaning company offers something different for your building, and it's useful to weigh the pros and cons of them all.
Picking the right company for your building's needs will keep your budget intact and give you peace of mind. We outlined the top 7 office cleaning services in our area below. Keep reading to learn more about them.
1. Sentral Services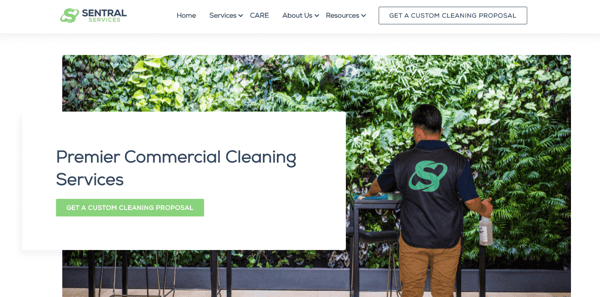 Sentral Services is a local commercial cleaning company with highly-trained and experienced staff.
We provide services for a wide array of facilities, including warehousing, educational, healthcare, government, medical, commercial, corporate, and institutional.
We take pride in our craft and our ability to understand our client's budget and their building's needs. We accomplish this by developing a plan and fulfilling our scope of work.
It's important that our clients feel they have a partner they can trust to complete the tasks, and provide a healthy, clean environment for their employees and to be honest.
Some of the services we offer include:
Trash removal
Power washing
Window cleaning
Carpet cleaning
"One of the best things about Sentral Services is that I know I can count on them to respond quickly and when they do they make it right. If there is a concern, their communication is great! I like the pictures they send also. It is a great experience working with the team. I can't say enough about the,...they make us look great!" - Katy Gagnon, Facilities Coordinator for Under Armour Headquarters

We've provided clean office spaces to many clients, including Comcast and George Mason University. If you think we might be a good fit for your building, request a free custom cleaning proposal now.
2. PMM Services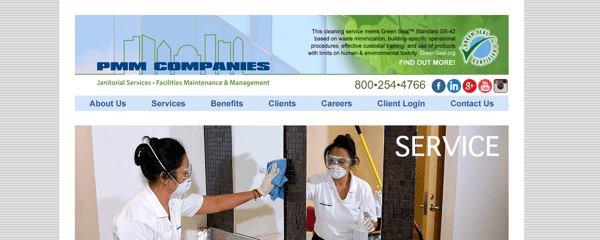 PMM Companies has over thirty-five years of experience in office cleaning.
They offer commercial cleaning to a wide variety of industries, including plant services and manufacturing, education, retail, government, and public venues.
PMM Companies operates from four different locations in Maryland, Washington, DC, and Florida, providing tailored packages to meet their customer's needs.
Their goal at PMM Companies is to provide their clients with cost-effective maintenance solutions.
Some of the services they provide include:
window washing (interior and exterior)
Power washing
Green cleaning
disinfecting switch plates and phones
Here is what some of their customers are saying:
"I wanted to take the time and let you know how pleased we are with the performance of PMM. You have done an excellent job with the cleaning and maintenance of our office building in Laurel, as well as outside maintenance for several of our warehouse properties." Mimi Brodsky Kress
3. Red Coats, Inc

Red Coats, Inc began operating in 1960 with only twelve employees. They now have multiple offices in 5 different states.
They are Green Seal GS-42 certified and proudly support over 100 LEED Existing Building Certifications, positioning them in a great spot to provide commercial office cleaning.
Red Coats, Inc does not provide a list of services offered on their website, but they do explain their EAC system used in their cleaning processes.
The EAC system they use to perform necessary cleaning on a routine basis mimics Industrial Engineering principles by splitting the work up into different units of tasks that are similar in terms of supplies and tools.
Some of their clients listed on their website include Flagler Real Estate Services and Columbia Property Trust.
4. Pioneer Building Services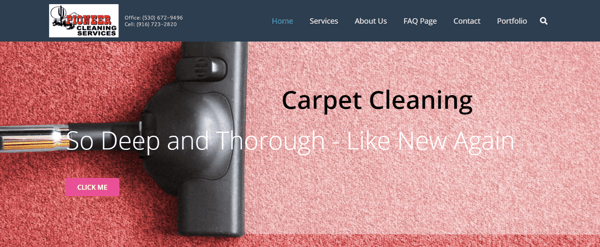 With over twenty years of experience in the industry, Pioneer Building Services reports that 75% of their business comes from commercial office cleaning.
Pioneer Building Services considers its core values to be always putting the customer first with honesty and integrity. They are a locally owned and operated business that focuses on hiring individuals who live and work within their core values.
In 2009, this commercial cleaning company won the Outstanding Building of The Year Award, which recognizes quality and excellence in commercial buildings and management.
Some of the services they offer include:
Day-time cleaning
Nightly Janitorial Services
Day Porter Services
Here is what their customers are saying:
"The level of service provided by Pioneer is outstanding. We are continually impressed by the prompt customer service and professionalism presented by every staff member we have come into contact with." Property Manager, Willco Companies
5. Safeguard Maintenance Corporation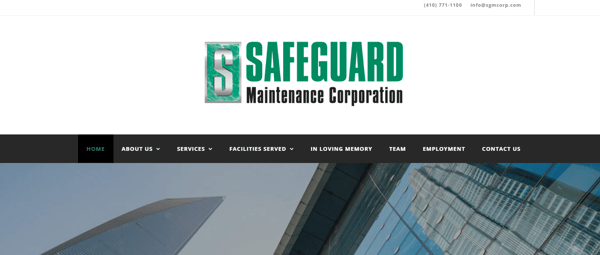 Locally owned and operated since 1976, Safeguard offers customized and cost-effective janitorial contracts for its customers.
With over thirty-five years of experience in cleaning government, commercial, secure, and LEED Certified Facilities, Safeguard stretches from Maryland all the way into South Carolina.
They specialize in cleaning secure buildings such as government and military facilities. They are experts in complex security requirements.
Some of the services they offer include:
24-hour answering service
Emergency Clean-up
General Cleaning
One-Site Porter
Here is what their customers are saying:
"This is a great janitorial company. They go above and beyond to make sure their clientele is happy with the services provided!" -Amanda Bradbury
6. Metropolitan Maintenance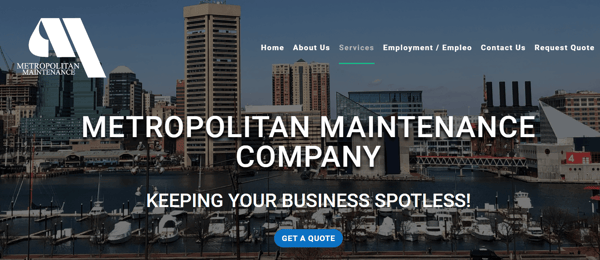 Metropolitan Maintenance established in 1969 and has since cleaned over 6 million square feet. They currently have more than 400 workers helping them handle big commercial cleaning projects.
With the size of their business, Metropolitan Maintenance boasts that they are always available for their clients. They claim their near-immediate response time sets them apart from other commercial cleaning companies in the area.
At Metropolitan Maintenance, they take pride in the green cleaning initiative and practice environmentally friendly standards.
Services offered include:
Cleaning
Grounds maintenance
temporary labor
restoration of marble
Here is what some of their customers are saying:
"Excellent service and great value! Great company to work with I will always choose Metropolitan Maintenance Co for all my janitorial needs" -Gennaro Buontempo
7. My Cleaning Services

With over 300 employees, My Cleaning Services has become one of the largest women-owned businesses in Maryland.
They have been providing cleaning services for forty-five years to a range of industries, including medical facilities, private institutions, primary schools, and universities.
At My Cleaning Services, they consider themselves a leader in green cleaning. They make it a priority to incorporate environmentally-friendly cleaning products and equipment.
Some of the services offered include:
Carpet and Upholstery Cleaning
Hard Surface Maintenance
Porter Service
Odor Control
Here is what their customers are saying:
"We recently renewed our contract with My Cleaning Service, Inc., because of the excellent service we receive. I am particularly pleased when there is a problem to report, we receive a prompt response to our issue" -N. Keller, Injured Workers Insurance Fund
Finding the Office Cleaning Service You Need
You might need to hire a new cleaning service and don't know where to start.
The list above serves as a good starting place to help you in your search for the perfect office cleaning service.
When considering which one is the best fit for you, keep in mind the services they offer, how much space you need to be cleaned, and how often you require the service. Make sure it works well within your budget.
At Sentral Services, we understand that office cleaning companies are not one-size-fits-all, and we don't want to waste your time if we aren't the best fit for your building.
With Sentral Services, we send one of our experts to your building to perform a walkthrough with you. They will then come up with a custom cleaning proposal that works with your budget and meets your office space's needs.
"Platt Development Group has been using Sentral Services for over six years. Before Sentral Services, I went through three cleaners in under 2 years! I have been extremely satisfied with this professional group of men and women. Their crews are always dependable and thorough and there has never been a time that I have not been able to count on Sentral for emergency service. With this company, I have been able to put janitorial services on the back burner and am able to concentrate on other management issues." - Theresa Beckner, Vice President of Platt Development Group