Carpets play an essential role in buildings. In addition to being aesthetically pleasing, carpets can reduce the travel of sound, making your building feel much more comfortable and less like an echo chamber. They're also fantastic for reducing dirt pollution in the air and throughout your building.
However, keeping carpets clean is a big undertaking for most companies.
Fortunately, carpets can be easy to maintain if you know what you're doing and have the right resources. The companies on this list know how to take care of your carpets so you can reap the rewards without the headaches of maintenance.
The 5 Top Commercial Carpet Cleaning Companies for Your Building
Several companies in our area offer commercial carpet cleaning services — but you need to do your research and make sure you pick the right one for you.
If the company has poor processes or outdated techniques, it might not be the right choice. So, make sure whoever you work with will be accessible, open to your particular needs, and responsive to your concerns. Limited communication can lead to unsatisfactory results.
We've done some research for you and compiled a list of competent services so you can feel confident in the commercial carpet cleaning team that you hire.
1. Sentral Services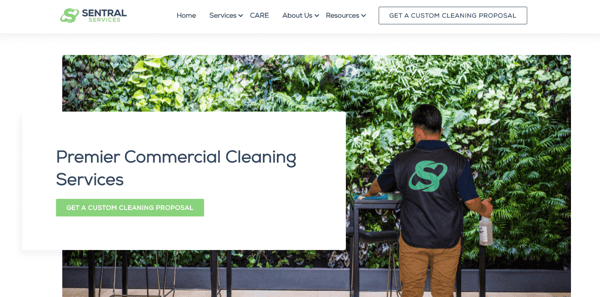 At Sentral Services, we take great pleasure in getting to know our clients. We put in extra effort because we want to know you and fully understand your needs.
With that understanding, we tailor custom quotes for the cleaning services you require, with no fluff or added expenses. This allows us to offer excellent service while staying within your budget.
Our highly skilled professionals use chemically safe, environmentally friendly cleaners to reduce both ours and our customer's carbon footprint.
Some of the services we offer include:
Carpet cleaning
Restroom restoration
Upholstery cleaning
Recycling
Trash removal
Power Washing
Customer service is our top priority at Sentral Services. Our customers always come first.
Because of this, we make sure we are clear on your needs beforehand. We know we won't be the best fit for everyone, that's why we offer custom proposals and promise to always be upfront with you.
To find out if we're the right fit for your company, request your custom cleaning proposal now.
"Ever since Sentral Services took over here, it has been so amazing. One of the best things about Sentral Services is that I know I can count on them to respond quickly, and when they do, they make it right. If there is a concern, their communication is great! I like the pictures they send also. It's a great experience working with the team. I can't say enough about them...they make us look great!" - Kathy Gagnon, Facilities Coordinator with Under Armour Headquarters
2. Red Coats, Inc

In 1960, Red Coats, Inc started with only 12 employees and a few clients. Today they employ over 7,500 workers and service hundreds of customers in the Mid-Atlantic area and the state of Florida.
They specialize in providing cleaning services to many types of customers, but most of their clientele have Class A commercial spaces. They are known for being excellent strategic partners for owner-occupied and leased office spaces.
Customers of Red Coats, Inc will benefit from their flexible scheduling. They offer services day and night, weekends, and even holidays if needed.
While Red Coats, Inc does not provide a specific list of janitorial services on their website, they do list contract custodial services and task-specific cleaning as things they provide for their clients.
"Our founding principle, established over 50 years ago to "provide our customers the standard of service desired at the fairest possible price and to ensure the continuation of our reputation for quality and value" is still true today. Red Coats is a woman-owned, family company with a long term management team that is more committed than ever to being the best provider of commercial office cleaning services in your area." - Red Coats, Inc
3. PMM Companies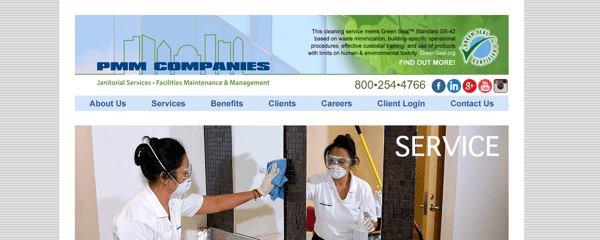 Since 1978, PMM Companies has worked hard to provide high-quality commercial cleaning and facility maintenance services. Their customers span many different markets, including corporate buildings and public venues.
They specialize in satisfying the distinct cleaning needs of schools, retail chains, apartment complexes, and over 20 million square feet of industrial facilities in Maryland, Virginia, Florida, and Washington, DC.
While promising to maintain competitive prices, PMM Companies strives to be more than a janitorial service. They want to be active participants in your business and the community.
At PMM Company, they commit to green cleaning practices and training excellent staff because their customers and the environment matter.
Some of the services they provide are:
Vacuuming
Carpet cleaning
Stripping and waxing floors
Trash removal
Blind cleaning
"Our corporate philosophy serves as the foundation upon which our company is built. As a family-owned and operated company for 35 years, the values of respect, integrity, service and excellence remain the core beliefs of all divisions within PMM Companies" - PMM Companies
4. Safeguard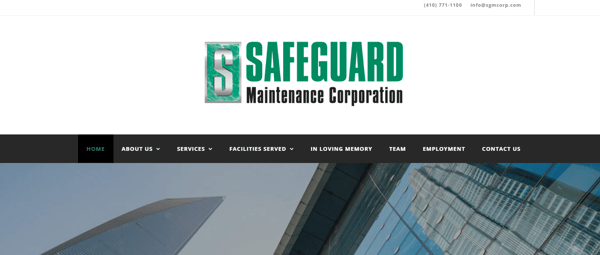 With over 35 years of experience, Safeguard meets demanding janitorial services such as carpet cleaning head-on with the most up-to-date equipment.
Safeguard requires all employees to master the best janitorial cleaning techniques and educate them on the benefits of eco-friendly products. They believe it is not enough to use environmentally safe cleaning products, but that they also understand why they should use them.
At Safeguard, they became LEED certified in 2002, and their green cleaning programs preserve and enhance LEED-certified buildings.
Some of the services they offer include:
Vacuuming carpets
Glass cleaning
Sanitizing fixtures and surfaces
Carpet spot removal
Emergency clean-up
On-Site day porter
Safeguard currently services clients from Maryland through South Carolina.
"Safeguard believes we are greater as a whole than our individual parts and every team member is accountable for a building's success." - Safeguard
5. My Cleaning Services

My Cleaning Services started the business 45 years ago. They staff a group of trustworthy and knowledgeable employees who are committed to exceeding expectations.
At My Cleaning Services, they provide an array of services daily in industries like commercial offices, churches, schools, and medical facilities, but they specialize in post-construction clean-up.
Their janitorial team cleans facilities with 20,000 square feet or less. For larger spaces, My Cleaning Services uses its specialty division.
Regardless of which team you use at My Cleaning Services, the company will conduct regular inspections to evaluate their performance and ensure customer satisfaction with its online-based software.
Some services they offer include:
Carpet and Upholstery cleaning
Hard surface maintenance
Porter service
Hotel maid service
Odor control
"Our Mission is to be the best cleaning service provider in the Mid-Atlantic Region. We firmly believe in our commitment to sustainability through cleaning for the health and protection of people and the environment." - My Cleaning Service, Inc
Finding Your Commercial Carpet Cleaners in Washington, DC
Any company mentioned above can clean the carpets in your commercial building. It's a service that we all provide.
But which company above is the best fit for you?
You'll need to determine a cleaning schedule, what days work best for you, the size of your building, and if you need a contract or just a one-time project clean-up.
At Sentral Services, we don't want to waste your time or money.
We will send out experts to your building to do a walkthrough, determine what services you need, and find the best way to give you the best service and stay within your budget.
"He was so professional, so concerned about getting the job done right, concerned about setting the tenant's fears to rest, and on top of all that, he was pleasant and helpful and just generally excellent." - Lynn R. Rinker, Property Administrator for Avison Young