Some companies will hire the first commercial cleaner they get a bid from, not realizing the importance of vetting their options.
When it comes to your business, you don't want to take chances. A commercial cleaning service isn't just trusted to clean your building — they're in your building at night, with access to all your critical and confidential documents.
"75% of people have admitted to stealing from an employer at least once."
Hiring the cleaning company can lead to a poorly maintained building, hazardous work environment, and a lapse in your business' security. Plus, by the time you find another service to take over, you've already wasted a significant chunk of money and time.
So, we're going to be open about who the best commercial cleaning companies in Baltimore are so you can save time and, hopefully, some money in the process.
The 5 Best Options for Commercial Cleaning in Baltimore, MD
High prices don't necessarily mean a company is the best. In fact, the best companies will tell you when you're wasting money on a service and recommend where you should actually allocate those funds.
This is why we offer our a custom proposal. We can come to your business and inspect the cleanliness of your building and the effectiveness of your current cleaning company, then provide a recommendation on the best fit services for you.
Request a custom proposal now, and we'll help you save your time, money, and reputation.
1. PMM Services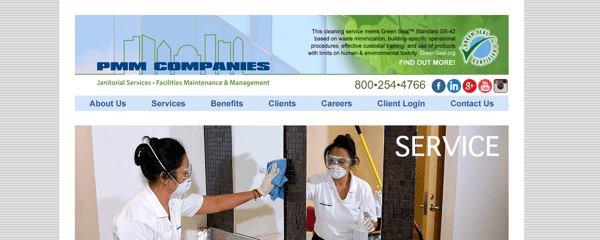 PMM Services offers commercial cleaning services to clients in a wide range of industries.
They are a family-owned company that has been in business for over 35 years.
PMM Services carries the Green Seal Certified stamp of approval, which means they meet the Green Seal standards for waste minimization, custodial training, building-specific procedures, and their use of products with limits on human and environmental toxicity.
Some of their services include:
Janitorial Services
Facility Services
Government Services
Professional Window & Carpet Cleaning
SDAC Facility Services
You can find out more about PMM Services and the services they offer by visiting their website: pmmcompanies.com.
2. Pioneer Cleaning Services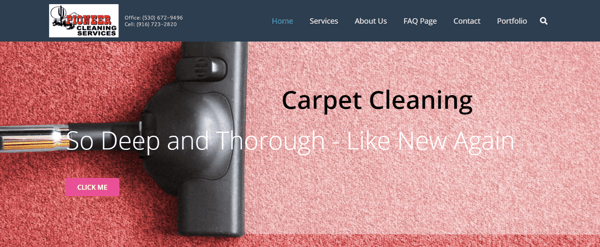 Pioneer Cleaning Services has been in business since 1989, and they are a family-owned and operated cleaning company.
They are licensed and bonded, and they perform background checks on all their staff. They provide their own equipment and supplies.
Some of the services that they provide are:
Carpet Cleaning
Grout and Tile Cleaning
Blinds Window Treatments Cleaning
Gutter Cleaning
Strip Restore Seal Flooring
Christmas Holiday Lights Hanging
Solar Panel Cleaning
You can find out more about Pioneer Cleaning Services and the services they offer by visiting their website: pioneercleaningservices.net.
3. Red Coats, Inc

Red Coats, Inc is a Green Seal Certified cleaning company that has been in business since 1960.
They started out with a small client base and only 12 employees, but they have grown their business a lot since then.
Some of the services that they provide are:
Wood Enhancement and Leather Care for Furnishings
Upholstery Cleaning
Carpet and Oriental Rug Cleaning
Anti-Static Treatment
Wood Floor Maintenance
Marble and Stone Restoration
Window Washing
Drapery Cleaning
Venetian, Mini, and Vertical Blind Cleaning
You can find out more about Red Coats, Inc, and the services they offer by visiting their website: redcoats.com.
4. Metropolitan Maintenance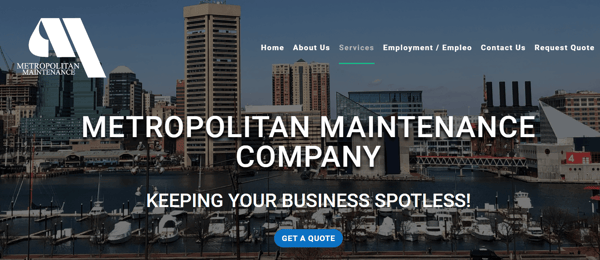 Metropolitan Maintenance was founded in 1969, and they are a privately owned cleaning company in Baltimore.
They are another cleaning company with the Certified Green Seal of approval, and they take eco-friendly cleaning methods seriously.
Some of the services that they provide are:
Commercial Office Cleaning
Medical Office Cleaning
Janitorial Services
Day Porter Services
Pressure Washing
Window Washing
Flood Cleaning
Post Construction Cleaning
Grounds Maintenance
Marble, Terrazzo, Ceramic, and VCT Restoration
You can find out more about Red Coats, Inc, and the services they offer by visiting their website: metropolitanmaint.com.
5. Sentral Services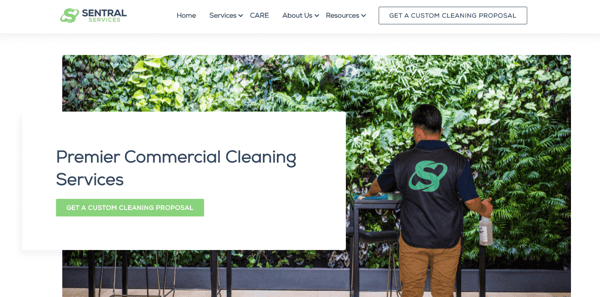 Sentral Services operates on our C.A.R.E. Methodology because we care about providing you exceptional service for the best price.
We provide consistent communication, assurance and peace of mind, replication of our repeatable best practices, and elevation to a higher standard of cleanliness.
Some of the services that we offer to our clients include:
Carpet Care
Hard Surface Floor Care
Raised Floor Cleaning
Specialty Floor Cleaning and Restoration
Marble, Stone, and Hardwood Refinishing and Maintenance, and Deep Carpet Cleaning and Restoration
Restroom Sanitation
Recycling
Trash Removal
Upholstery Cleaning
Window Cleaning
Power Washing
Event Cleaning
Construction Clean-Up
We've provided top-notch commercial cleaning services for companies such as Comcast, George Mason University, Cushman & Wakefield, and JLL.
Let us help you get the best cleaning service possible at a price you can be happy about.