You need to truly understand commercial cleaning service costs in 2020 if you want to make sure that you don't overpay for the services you're getting.
These prices have changed drastically over the last decade — in fact, they've even changed quite a bit in the past year. Plus, making decisions on the right provider isn't easy.
You have so much to consider:
Government regulations must be met.
Environmental regulations must be met (or even exceeded).
Your standards of cleanliness must be high.
Providers need to be insured, so you don't pay for it if their staff is injured on your property.
Employee turnover rates can even be impacted if employees are picking up the slack for your cleaning company.
There are a lot of things to think about, but to narrow it down, there are some specifics you want to keep in mind while requesting bids to make sure you're paying the right price for the services you need.
While the actual cost depends on a handful of variables, determining a rough estimate for your building isn't as difficult as you may expect. This article will spell out the critical factors that influence the price and give you a better idea of what commercial cleaning services will cost for your unique situation.
How Much Do Commercial Cleaning Services Cost?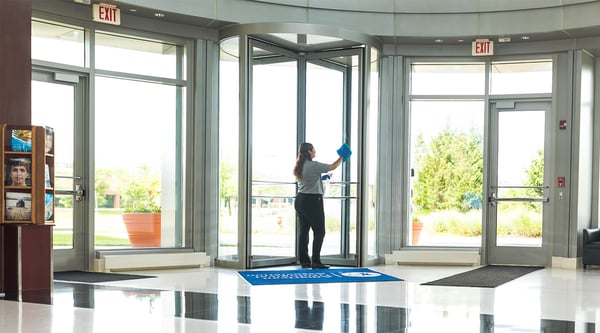 Price doesn't directly correlate to the quality of service. You should be equally wary of companies that cost too much as well as companies that are dirt cheap.
Some companies — like ours — will provide custom proposals. Our free custom proposal includes an on-site walkthrough. We do a thorough evaluation and talk with you about your needs so that we can tell exactly what you're getting and how much you're paying for it.
But, if you want a rough idea before scheduling a walkthrough with us, then keep reading to find out how much commercial cleaning services typically cost.
Flat vs. Hourly Rates
Different companies will offer their services for either a fixed rate, flat rate, or an hourly rate. Which one is best depends on your unique cleaning needs and how fast their employees clean.
Quick, one-off jobs might be cheaper if you pay the average hourly rate of $30-$35 per worker per hour. However, in most cases, flat rates are usually a better deal for you and the cleaning company.
Pro Tip: Don't fall for hidden fees like "first-time cleaning fees" or providing your own cleaning supplies. A professional commercial cleaning company should provide the supplies and tell you which ones they recommend and why.
Variables That Impact Cost
There are several factors to consider when a cleaning company provides you with a customized quote for their services. Each of these variables can have a big impact on your typical cost.
1. Square Footage
The amount of square footage that needs to be cleaned is easily the largest variable of them all. The bigger the space, the more it's going to cost to have it cleaned.
A bigger building requires more time, more workers, and more cleaning supplies to get the job done. However, some companies will offer discounts for buildings over a set amount of square footage to help with the final cost.
The national average cost per square foot is $0.07 to $0.15.
Pro Tip: Don't guess what a good rate is. Request a custom proposal and we'll tell you exactly what it'll cost for Sentral Services to handle your cleaning.
2. Windows and Bathrooms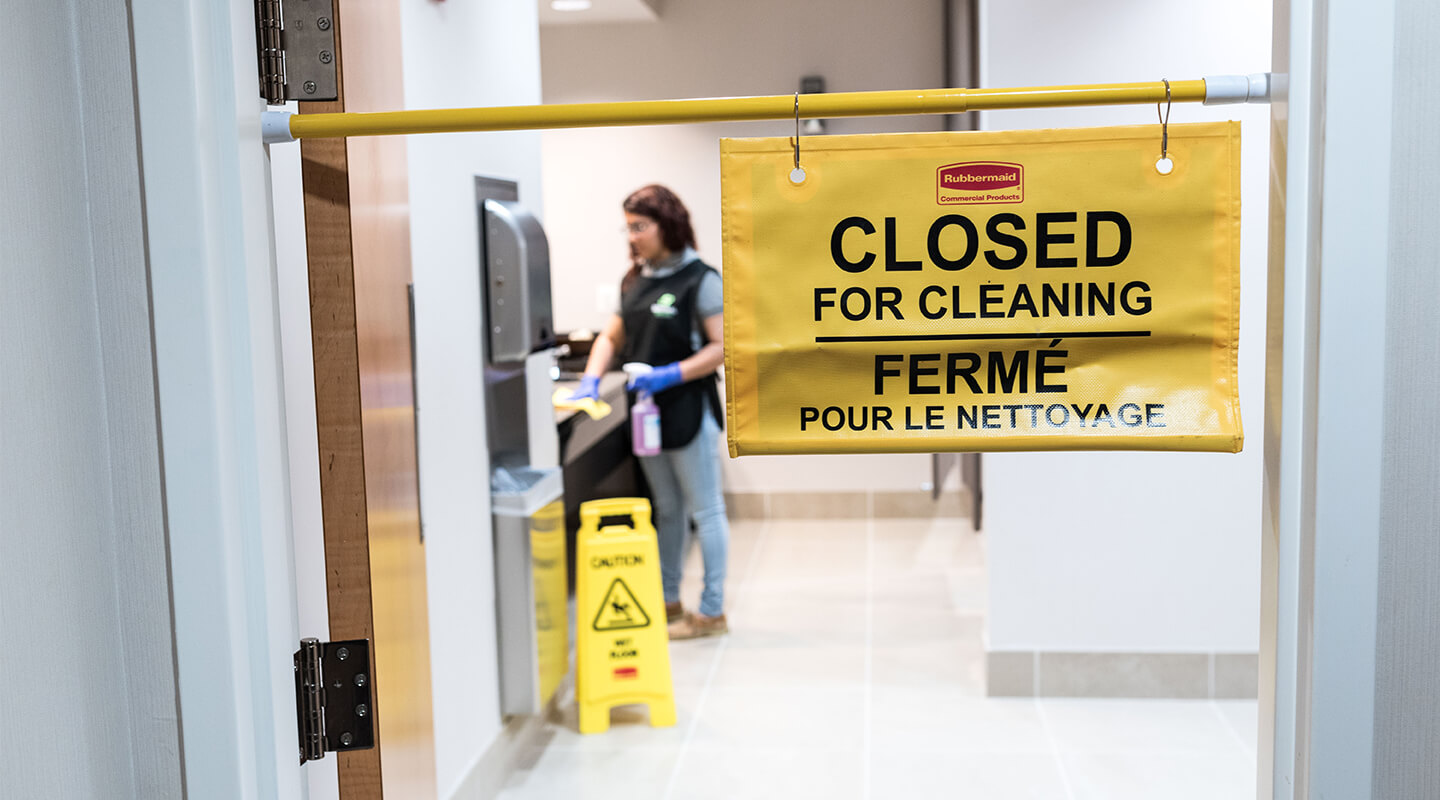 The number of windows and bathrooms in your building is going to impact your quote. Cleaning bathrooms and windows simply takes more time and resources than just a hallway would.
Bathrooms are high-traffic areas that require more specialized cleaning than other areas of your office building.
Toilets have to be scrubbed and sanitized.
Toilet paper and paper towel holders are to be refilled.
Counters and sinks will need to be scrubbed and sanitized as well.
Windows require specialized workers and equipment to be cleaned inside and out. The outside surfaces of each window will need to be cleaned by workers on ladders or other equipment to reach the windows above ground level.
3. The Type of Work Required
What type of work your building requires is going to make up a large portion of your quote.
What types of floors do you have in your building? Carpet, hard surfaces, raised flooring, marble, stone, or hardwood? The type of flooring in your building makes a difference in what services you'll need to keep them cleaned. They might need to be vacuumed if you have carpet, or stripped, waxed, and buffed if you have hardwood.
Does your building need to be deep cleaned? Or will you only need to pay for regular upkeep? The longer you wait in-between cleanings, the more it's going to cost to clean when your cleaning company comes back out again.
Are you looking for specialty services such as post-event cleanups or cleaning for a construction site? These types of services are going to cost more than a typical office building job.
Some examples of services a commercial cleaning company might provide are:
Restroom Sanitation
Power Washing
Recycling
Trash Removal
Window Cleaning
Hardwood, Stone, and Marble Floor Refinishing and Maintenance
Raised Floor Cleaning
Deep Carpet Cleaning and Restoration
Carpet Care
Post-Event Cleanups
Construction Cleaning
Sentral Services offer these services and many more. For a complete list of all the services our commercial cleaning company provides, you can check out our Janitorial Services page.
How to Factor the Costs for Commercial Cleaning Services
As mentioned above, how much you pay for commercial cleaning services varies based on the variables mentioned, your location, and what company you choose to do business with.
Pro Tip: Get quotes from multiple companies before you settle on one. You need to ask them a few crucial questions to determine if they are a trustworthy and legitimate company to work for.
Do they have liability insurance to protect you and their company if one of their employees has an accident while cleaning your offices?
Do they charge hourly or do they offer a fixed rate for their services?
Does someone from their company come out and tour your building with you so they can recommend what services suit your needs best?
At Sentral Services, we take pride in our company and the work we do. After you request a custom proposal, one of our professionals can come out to your office and let you know exactly what services you need and why.