In a world where two guys can buy a mop and register a corporation, you have to take steps to ensure that you're getting a professional, reliable company — and that's not always easy to tell at face value.
With dozens of options in the nation's capital, you could spend hundreds of hours combing through reviews and proposals before you find the company that best fits your needs.
And the longer it takes, the longer your building isn't getting the premier services it needs.
We created this list to help you with that problem.
These are some of the most trustworthy commercial cleaning companies in Washington, DC, delivering professional services and fair rates.
The 5 Top Commercial Cleaning Companies in Washington, DC
"Best" is subjective. What you need is a company that provides transparent pricing, professional services, and isn't afraid to show you the services you actually need.
We provide our Full Sweep Audit to help you discover any gaps in your current cleaning services and to provide you with a list of recommended services based on your building's needs.
Schedule your Full Sweep Audit with Sentral Services now, and our team of professionals will tour your building and create a detailed report just for you.
1. ABM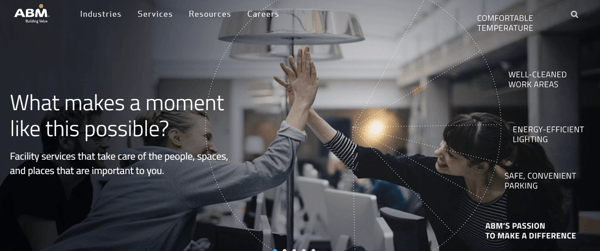 ABM has a team of more than 140,000 workers who service clients in a wide range of industries, according to their website.
The AMB GreenCare program helps to make a positive impact on the environment by offering holistic services such as recycling and green cleaning services.
ABM is focused on providing cleaning services that improve your health and indoor air quality through its GreenCare program.
Some of the industries they provide services for are:
Aviation
Business & Industry
Commercial
eCommerce
Education
Government
Healthcare
Technology
They offer specialized janitorial services based on the unique needs of your industry.
2. Bravo Group Services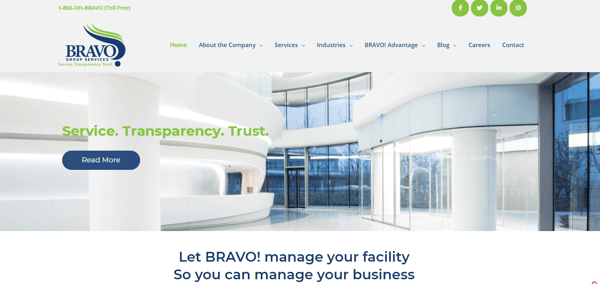 Bravo Group Services is a woman-owned cleaning company with locations in 16 states. Their first location opened its doors in 1997 in the state of New Jersey
In 2001 they acquired Avid Facility Solutions — an HVAC/refrigeration services company. They were selected to be included in DiversityBusiness.com's list for "The Top 500 Women-Owned Businesses in the U.S" as #180 in 2005
"Our Mission: To create healthy environments, providing facility solutions, and allowing our customers to focus on what matters most." - Bravo Group Services Mission Statement
Some of the services they offer are:
Carpet Care
Computer Room Cleaning
Emergency Cleaning Services
Food Service Sanitation
General Maintenance
Green Cleaning
Light Industrial
Pressure Washing
Recycling Services
Restroom Sanitation
Window Cleaning
3. P&R Enterprises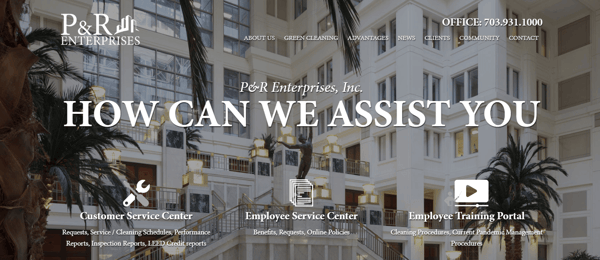 P&R Enterprises started its company in 1968. They are CIMS and GS-43 certified, and they provide service for companies across several industries.
They were one of the first companies to become Green Seal Certified for green cleaning, and they care about the impact their cleaning supplies have on the environment.
Some of the services they provide are:
High-Performance Contract Cleaning
LEED Consultation/Green Cleaning
Light Duty Maintenance
Carpet Cleaning
Power Washing
Garage Cleaning
Loading Dock Attendants
Concierge Service
P&R Enterprises has experience with Class "A" Facilities, Federal Facilities, High-Security Facilities, Airports, Courthouses, Universities, Campus Style Complexes, Auditoriums, and Performance Centers.
They are active in the community and support several charities. Some of the charities they have supported are Fannie Mae for the Homeless, Special Olympics, Trust for the National Mall, the National Kidney Foundation, and the Poor Roberts Mission.
4. Red Coats, Inc

Red Coats, Inc is a Green Seal GS-42 certified janitorial contractor that was founded in 1960. They have locations in Baltimore, Southern Virginia, North Carolina, Florida, and California.
The majority of the clients they serve have Class A Commercial spaces they need professionally cleaned. Their founding principle is to:
"Provide our customers the standard of services desired at the fairest price possible, and to ensure the continuation of our reputation for quality and value." - Red Coats, Inc
They offer contract-custodial services to their clients day and night. You can even have them come out on weekends and holidays if necessary.
All of their staff are pre-screened, and they carry liability insurance to cover your business and theirs in the event of an accident.
Red Coats, Inc operates on an EAC system that they created. They use short interval scheduling to make it easier to organize the work and make changes as needed.
5. Sentral Services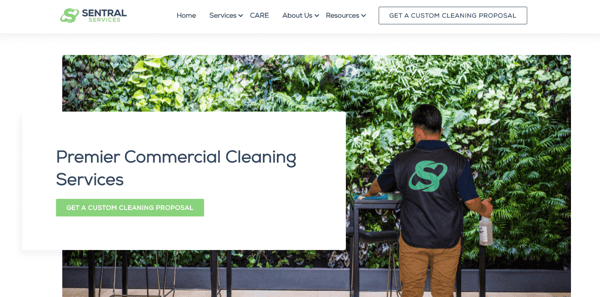 At Sentral Services, we take your business seriously. We know that you need the best possible cleaning services at a budget you can be happy about.
We take great pride in our work, and we only use cleaning products that are safe for the environment and that repel dust — instead of attracting it as most off-the-shelf products do.
Our pricing is transparent, and we want to help you create a solid plan that includes only the cleaning services you really need so that you can get the biggest bang for your buck.
Sentral Services maintains your facility with care by utilizing our C.A.R.E. methodology.
"The CARE Methodology prioritizes high-quality processes, technology, products, and the science of cleaning to deliver an immaculate, safe, and healthy environment." - Sentral Services
Schedule your Full Sweep Audit today, and our team of professionals will tour your facility and customize a unique cleaning plan just for you.