Having a building that looks clean is no longer enough — disinfecting and sanitizing are more critical now than ever.
COVID raised the standards of cleanliness for businesses. Your customers and employees are on high alert and are looking for any sign of poor cleaning practices. If any business in our modern environment wants people to keep entering their building, they need the space to look and feel clean and sanitary.
But above that, it needs to be decontaminated and free from germs and bacteria.
Your cleaning practices might just be the reason that someone chooses to work for you, or shop with you, instead of going to your competitor.
You might be wondering how much it costs to have a building so clean people that it becomes part of your marketing message and employer brand? We've compiled a list of variables that impact the price so that you can plan ahead.
4 Variables for the Cost of Commercial Cleaning Services in Washington, DC
The cost of professional commercial cleaning service should not be complicated or confusing. We believe you have a right to know exactly what you are paying for, and how those prices are determined.
At Sentral Services, we want to make sure our clients get the best quality of work within their budget, and we also want to make sure they understand where the prices come from. To find out what services we recommend for your commercial space and how much it'll cost, request your custom cleaning proposal now.
1. The Amount of Work
Some buildings require more work than others. This is especially true for spaces with high traffic volumes throughout the day.
Businesses with lots of visitors expose their employees to more germs and bacteria, which leads to the possibility of viral illnesses spreading throughout the company, affecting employee health, business workflow and overall morale.
These buildings require a thorough daily after-hours cleaning to help keep everyone healthy. And the more you need to clean, the more expensive the service is.
Buildings that do not have as much traffic will be easier, thus less expensive to maintain because they won't need to be cleaned as frequently.
There are various types of cleaning tasks that may need to be done, some more difficult or involved than others. This too will factor into the cost of cleaning
Are your floors carpeted or tiled? How many areas need cleaning? Are there hard to reach surfaces?
These questions help you determine how much work a commercial cleaning service might need to do at your building, and how they will affect pricing.
2. The Size of Your Building
According to Thumtack.com, the average cost of a $1,000 square foot commercial cleaning service is $118. The prices increase as the square footage increases.
Larger buildings need larger cleaning teams. Needing more people, more cleaning supplies, and more time to clean will drive your commercial cleaning costs up quickly.
Buildings with more rooms will also cost more than a large warehouse with the same square feet. This is because obstacles like walls and furniture affect pricing.
Buildings with fewer rooms cost less. They are quicker to clean and require fewer people.
Buildings with office space with cubicles are the most expensive to clean. They have more areas requiring sanitation and many harder to reach spots.
You can look at a list of the national averages at thumbtack.com to help give you a better idea of commercial cleaning costs.
3. Areas That Need Cleaning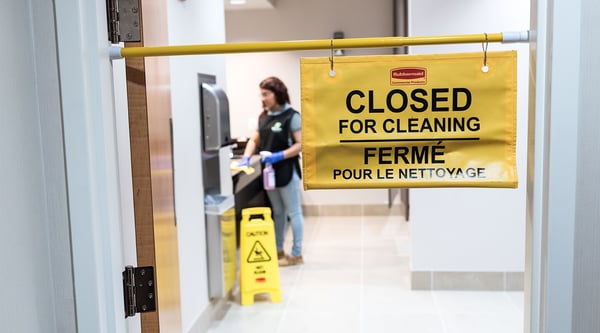 How many bathrooms do you have in your commercial building? Do you have many or only a couple? The number of bathrooms you have will be factored into your cost.
The type of areas that need cleaning is another variable in commercial cleaning costs. Bathrooms, like cubicles, take longer to clean, and they are more challenging to sanitize properly.
Every surface in a bathroom requires disinfecting. Your cleaning crew scrubs toilets and sinks.
And they mop all the difficult to reach areas on the floor. Walls and hand towel holders even require cleaning. Other areas that might affect costs are kitchens or break-rooms that also require sanitation.
Highly-trafficked floors are essential to maintain. Neglecting your floors will only lead to a quicker deterioration costing you more money in the long run to replace.
Spending more for the right supplies and proper maintenance on heavily used floors will pay off in the end.
What about the windows? Does your building have a lot of windows?
Unfortunately, more windows mean a higher commercial cleaning cost too.
4. Cost of Living
There is one final variable in commercial cleaning costs we want to mention- the cost of living and your location.
It's no secret that Washington DC is one of the more expensive areas to live in the United States. Payscale.com reports that Washington's housing expenses are 148% higher than the national average, and grocery prices are 10% higher.
This means that cleaning services in Washington, DC, and the surrounding areas will be more than some of the other regions of our nation.
So while we encourage you to check out the list of the average price mentioned above, we do want to remind you that commercial cleaning prices in the Mid-Atlantic region are on the higher end.
The best way to find out how much cleaning your building will cost is to request a free quote.
Weighing the Cost of Commercial Cleaning Services
Given the way things are heading in our social climate, cleanliness is not an area you want to sacrifice in your budget. The health of your employees and customers depends on how well you sanitize your building.
You don't want to spend hours of your valuable time researching, trying to figure out what it will cost to clean your commercial building.
Let us send our experts to your building. We will do a walkthrough to get to know you and determine what your company needs. Together we will go over your budget limitations, the services your building needs, and provide you with a customized quote.
At Sentral Services, we pride ourselves on the services we provide and our excellent customer service.
"Ever since Sentral Services took over here, it has been so amazing. One of the best things about Sentral Services is that I know I can count on them to respond quickly, and when they do, they make it right. If there is a concern, their communication is great! I like the pictures they send also. It's a great experience working with the team. I can't say enough about them...they make us look great!" - Kathy Gagnon, Facilities Coordinator with Under Armour Headquarters