Are you looking to hire a professional carpet cleaning company for your business, but you're unsure how the cost is determined? Are you confused about what factors affect the price and which ones don't? What about your furniture and stairs? Are you concerned about how they will affect the cost?
We have some knowledge to arm you with that'll help you get the best service possible.
Getting your company's carpet cleaned right seems like a simple task, but a few variables impact the cost of commercial carpet cleaning. As a general rule, you will usually pay around $0.25 per square foot. However, before you get attached to that price, you need to consider the variables that can change the projected cost.
Commercial Carpet Cleaning Pricing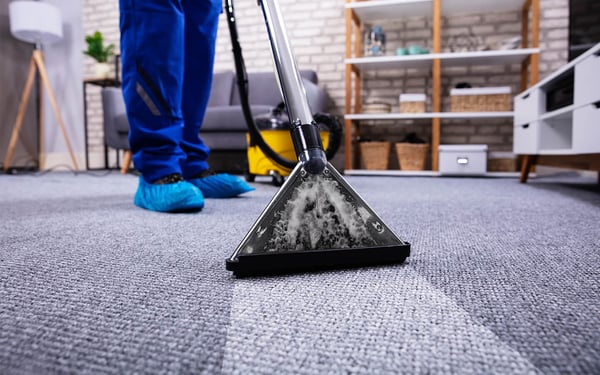 Typically, carpet cleaning costs between $0.05/sf-$0.25sf. But this is only an estimate. Not only do different companies charge different amounts, but many factors affect what your final price will be
Get a custom quote to get an accurate price. We will take the time to look at your facility and give you an actual price quote. For now, keep reading to learn about the variables that will affect the price of your quote.
1. Type of Carpet
Some types of carpets are more expensive to clean than others. Commercial products that have inferior yarn systems, commercial carpets that have action back only, and older carpeting, in general, all have different prices.
The difficulty of cleaning the carpet determines the pricing. Carpet that is more difficult to clean may require more chemicals and more time.
Berber Carpet, for instance, is among the cheapest and easiest to clean. Cut and level loop gets a bit more complicated, and cotton and wool can be extremely difficult. That's just a small look at the kinds of carpets that you might have.
It's essential to know what kind of carpet you have, so you know what to expect when getting a price quote.
2. Facility Layout
Having a big open room vs. many smaller offices will have an impact on cost as well. It only matters, though, if there are items on the floor that we need to move to gain access. We will look at the amount of furniture in the space and how much of the space is actually carpet.
Small spaces can be pretty standard to clean. The cost may increase if its location is on a higher floor or if any other factors make the space difficult to access.
If your space includes stairs, they tend to cost an average of $2 to $3 per step. Stairs aren't typically included in square footage calculations for rooms, so they may incur separate charges.
3. Condition of Carpet vs. the Desired Result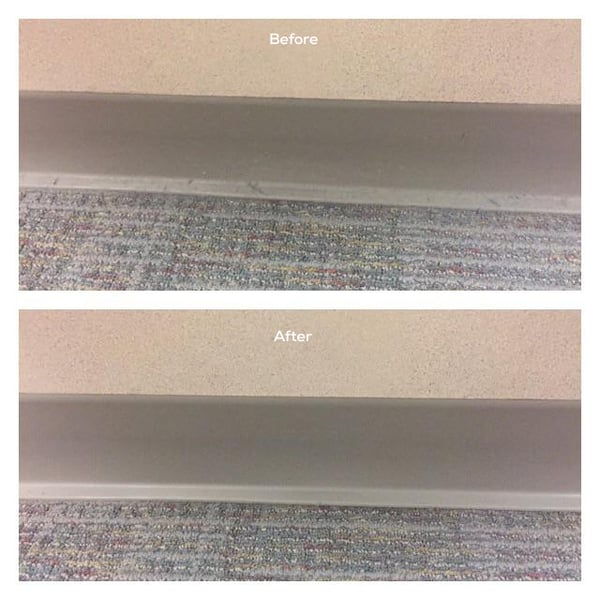 If the carpet is in bad shape and you want it to look new, it will require additional treatment. It also depends on what the damage is. Stains are one thing. But is there wear and tear, smells, and other types of damage? Consider just how bad of shape your carpet is in and what you are willing to invest in restoring it.
Stain removal will play a significant factor in this if it's necessary. Pricing ranges from $40 to $300 for stain removal alone. The type and size of the stain and its difficulty to remove will ultimately determine the cost. You're not going to be able to estimate this without help.
4. Furniture and Obstacles?
It would be best if you considered whether furniture moving would be required. Part of the job will likely consist of moving small pieces of furniture. Commercial carpet cleaners generally expect this. It's the larger pieces that cost extra.
Heavy furniture doesn't usually require removal unless you want it removed. Furniture moving costs typically range around $200 for two professionals doing two hours of work.
Considering the layout of your furniture will help give you a better idea of additional costs for furniture to be moved. For example, if you have a big table sitting on the carpet that you want to be cleaned, reviewing your options isn't a bad idea. It all comes down to weighing the need for cleaning under furniture and factoring it into how much you're willing to spend.
Get a Quote
It's hard to add up the different factors that affect the price of commercial carpet cleaning. Knowing the basics will give you an idea, but getting a professional quote will determine precisely what costs you're looking at.
You may also be unsure what the company will charge you based on your carpet setup and accessibility. Our team can evaluate these specific needs and include them in your quote for commercial carpet cleaning.
Sentral Services can help you with all your commercial carpet cleaning needs every step of the way. To find out how much it'll cost to get your carpet cleaned, click here to get your custom quote now. End the confusion, and get yourself started on the path to a cleaner facility today.