You have an office that needs to be cleaned, but you're not sure what it costs for professional cleaning. Maybe you're worried that someone will give you an unreasonable price, and you'll pay more than you should just because you don't know.
You don't want to overpay for office cleaning. You also don't want someone to give you a low cost and then not deliver the services you need.
We don't want this to happen to you — let us help.
In the post-pandemic world, you don't want to cut corners, but you can't afford to overpay either. While costs will vary based on multiple factors, there are some average costs to be aware of:
$20-$40 per visit to a small office (less than 1200 to 2000 square feet) to empty trash, light vacuuming, and dusting each visit.
Price increases to $40-$65 per visit if the facility has 1-2 small bathrooms and requires restocking of paper products, mopping the floors, disinfecting surfaces, and toilet cleaning.
Larger offices (2100 square feet and larger) incur charges per square foot starting at $0.50 per square foot for scrubbing or waxing floors, cleaning break rooms and kitchens, and vacuuming.
So how do you know how much you should pay to get the level of service you need? This post will show you some average costs for office cleaning and share five things to consider when considering a professional office cleaner.
How Much to Pay for Office Cleaning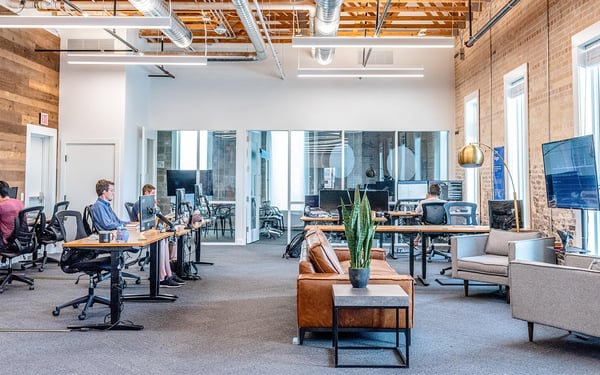 One way to find out how much to pay for office cleaning is to evaluate multiple cleaning services. You will want to look at their track record and talk to their customer service departments to find one you're comfortable with.
Size of Your Office
The primary factor for the price of office cleaning is the size and layout of your office.
Knowing your office's square footage is a great way to get a ballpark figure on how much to pay for cleaning. The layout will also impact how much the cost should be as well. These two factors will influence the difficulty level of cleaning, which will affect the price.
You'll need to let the cleaning company representative know how many desks there are.
They'll need to know if it's an open floor plan or if there are cubicles.
They'll need to know if there are multiple offices, restrooms, break rooms, and whether your facility has a kitchen.
They'll need to know if you have all carpet, tiles, wood, or any combination of flooring. Different types of flooring mean different kinds of tools and supplies to clean adequately.
All of these things will impact the level of cleaning as well as the price.
Cleaning Services You Want
How dirty is your office, or how dirty does it get? An office cleaning company representative will need to tour your facility to provide a detailed quote.
For a general cost, if your office is smaller with low foot traffic or even up to a medium in size with minimal foot traffic, the cost shouldn't increase substantially.
However, if the office is messy and has high foot traffic, the cost could significantly increase. Dirtier office spaces require more products, labor, and equipment to give you your desired results, resulting in more time spent on the job.
You will need to make a list of everything you want the cleaning company to do and discuss that with them.
Do you just want your floors done?
Do you have blinds you would like washed once a month or dusted weekly?
Are there baseboards to clean?
Do you want them to vacuum, mop, polish floors, or dust all service areas?
Do you want them to empty the trash cans, empty the refrigerator, or clean appliances?
You will also need to consider supplies. The cleaning service company will need to know who will provide and restock the paper supplies, which includes things like:
Toilet paper
Paper towels
Feminine hygiene products
Napkins for the break rooms
And more...
Be clear on precisely what it is you would like to have done. The number of services will impact the cost as well. It's good to have a general idea of what you want to be done regularly before getting a quote.
All of these services take time to clean thoroughly. So the more services you require, the longer the time it will take to complete. Time equates to cost.
Post-Pandemic Requirements
Do you know the post-pandemic regulations and requirements for your business that the cleaning service will have to adhere to? You'll want to hire an office cleaning company that knows the guidelines for businesses. Be sure to ask about their disinfecting services to mitigate the spread of coronavirus in the workplace.
What are your requirements? Be sure to note these in your price quote or when speaking to the company representative. If you're a company that is environmentally friendly and sticks to green products, this could cause a price change.
Our team prides itself on its dedication to proper disinfection and cleaning per the EPA guidelines at Sentral Services.
How Often Do You Need Cleaning?
Cleaning frequency will determine your cleaning services cost. Some companies will offer you a discount per visit if you require visits more frequently.
Time of day can also affect the cost of office cleaning. Most office employees work during the day hours, so the business generally hires a cleaning crew to come in outside of regular business hours, whether it's first thing in the morning before staff arrives or in the early evening when the staff has gone home for the day.
After hours means no employees or customers will be disturbed by the cleaning crew. If a business wishes to have daytime cleaning staff on duty, the cost may increase for this service as the crew will have to work a bit differently around employees and clients.
What Kind of Credentials Do You Require?
Training for disinfecting and cleaning services varies between states. Do you want special training for your cleaning crew?
Do they need to be experienced with certain conditions or industries?
Are you open to using anyone who has been trained by their company but does not hold any special certifications?
Do you require the crew to be bonded to protect you against the risk of loss?
All Sentral Services employees have background checks and attend training for their position.
Getting Great and Affordable Office Cleaning Services
Ultimately, you shouldn't make this decision on price alone. Instead, make sure you understand precisely what the service is bringing to the table and get an understandable explanation of everything they invoice for.
If something isn't clear, it's reasonable to ask them to clarify and make sure you understand. Once you've received your initial estimate, a representative from the cleaning company should tour your facility. Do not sign any contracts until this happens.
During this meeting, you should ask all of your questions. This tour will allow the cleaning company representative to confirm the space's size, the frequency of the cleaning, the duties, and the time the services are to be done. The representative will go over the list of services provided and make recommendations based on their findings.
If you want to cut to the end and get a quote from a company that cares, talk to us to get a quote for all of your office cleaning needs.