You deserve the best commercial cleaning company for your professional office space.
There are dozens of options for janitorial services out there, but that doesn't mean they'll all be a good fit for you.
You need to ensure you're going to get the services you need without being forced to pay for ones you don't.
Larger companies might benefit from choosing a package of services, but smaller companies are likely to end up paying more for things they don't need.
That's why we compiled a list of the most professional office cleaning companies in the mid-Atlantic. You can vet the options on this list, knowing that, at a minimum, they deliver high-level services for their clients.
5 Top Professional Office Cleaning Companies in the Mid-Atlantic
Getting the professional office cleaning services you need doesn't have to be complicated.
When you request your custom cleaning proposal from Sentral Services, you'll tell us what you need, we'll make recommendations based on a walkthrough of your building, and then we'll give you an itemized quote detailing the services and costs.
Get your custom cleaning proposal now, and check out some of the companies on this list to find one that's a perfect fit for your needs.
1. Metropolitan Maintenance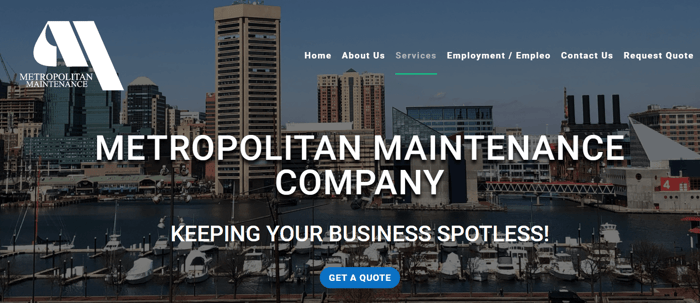 On their website, Metropolitan Maintenance, states they are one of Maryland's largest privately owned commercial cleaning services.
They consider their focus on customer service to be their distinguishing quality.
Metropolitan Maintenance specializes in janitorial services, but with 400 employees, they are big enough to help with a wide array of cleaning services.
Some of the services they offer include:
Carpet cleaning
Power washing
Flood cleanup
Window washing
Grounds maintenance
2. ABM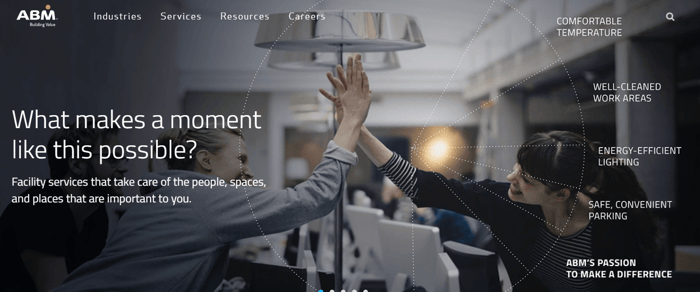 ABM services thousands of clients with their 350+ offices across the US and some international locations. They also provide a variety of services for many different industries.
In the janitorial industry, ABM, promises reliability, and a well-trained team to keep your space clean.
Some of the industries they specialize in are:
Aviation
Business & Industry
Commercial
eCommerce
Education
Government
Healthcare
Technology
"I'd like to extend our thanks for the professionalism and reliability of the ABM team during these trying times. You've consistently come through for us and gotten the job done. Please know your efforts have not gone unnoticed. Keep up the great work!" - Facebook Review
3. Red Coats, Inc

Founded in 1960, Red Coats Inc is a Green Seal GS-42 certified janitorial service specializing in commercial office cleaning.
They service many professional facilities such as educational, military, and shopping malls with their janitorial services. And they promise customers a prescreened, professionally trained cleaning staff.
Some benefits of working with them are:
Green seal certified cleaning programs.
Weekend and holiday services.
Prompt response to clients.
4. Bravo Group Services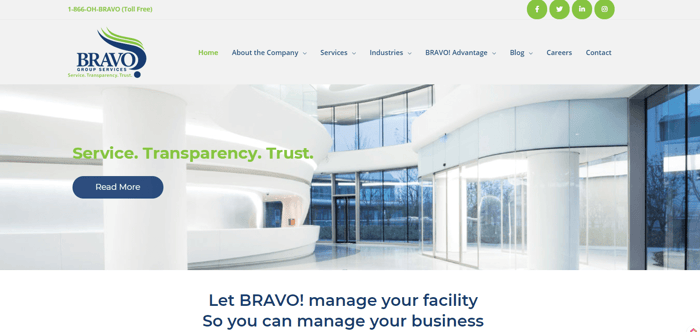 At Bravo Group Services, their mission is to create healthy environments so their customers can focus on what matters most.
On their website, Bravo Group Services state they still service their very first customer as evidence of their quality and customer satisfaction.
Some of the services they offer include:
Carpet care
Emergency cleaning
Upholstery cleaning
Restroom Sanitation
Green cleaning
"I just wanted to take a moment to recognize the great work the BRAVO! Group Services team did during Shareholder's Week in supporting our Associates and visitors. The team did a fantastic job in preparing the Sam's Club Support Building as well as the Walmart Museum. Many thanks for all your hard work and dedication." - Rick Coronado
5. Sentral Services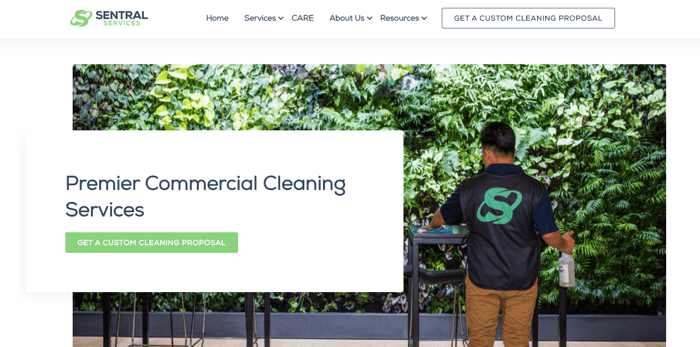 Managing your cleaning in-house or outsourcing to an individual contractor means you'll have to invest your time overseeing the work to ensure the job is done right.
When you choose a premier service — like Sentral Services — you eliminate and minimize time-consuming burdens on your operations team that keep them from doing what they do best.
Free up your operations team by letting our cleaning professionals handle the following tasks for your office space:
Restroom Sanitation
Recycling
Trash Removal
Upholstery Cleaning
Window Cleaning
Power Washing
Carpet Care
Hard Surface Floor Care
Raised Floor Cleaning
Specialty Floor Cleaning and Restoration
Marble, Stone, and Hardwood Floor Refinishing and Maintenance.
Deep Carpet Cleaning & Restoration
Need a cleaning crew to clean up after a special event or provide post-construction cleaning? Our team can provide those services too.
Learn more about the post-construction cleaning services we offer here: First Class Construction Cleaning.
We've provided office cleaning services to clients such as Comcast and Cushman & Wakefield — and we're confident we can help you get the janitorial services you need to keep your office in tip-top shape.
Get Your Custom Cleaning Proposal Now
By choosing Sentral Services to clean your office space, you'll rest easy knowing it's cleaned with the best practices our company has developed over many years.
We promise you won't be surprised by any hidden costs or terms, and our team will create a solid plan that fulfills our scope of work (SOW) agreement.
Every building we clean gets completed by following our 3-step process:
Request your custom cleaning proposal.
We send out a cleaning crew that aligns with your needs to ensure you get the results you expect.
Our team executes the work according to your specifications and inspects the work to ensure accountability and consistent results.
When you request your custom cleaning proposal, one of our experts will tour your building with you and help you determine what services are the best fit for your office space.
You'll get the services you need without paying for ones you don't.
Get your custom cleaning proposal now to have your office spaced cleaned by professionals who care about getting the job done right.