When a stone floor loses its shine, or it becomes filthy, it needs restoring to a like-new condition using a combination of cleaning, polishing, and resealing.
Stone floor cleaning can be on the expensive side, but it doesn't have to be. You just need to know what to look for. With filthy floors, professionals use a penetrating chemical that loosens oil and grime that has soaked into the stone. Then, they'll remove it all with a specialized vacuum. On average, you can expect to pay $0.50-$1.50 per square foot for this service.
Cleaning companies can often tack on unnecessary charges to jobs like cleaning stone floors. Or they try to win a bid by cutting corners, which ends up being a waste of money.
Here's what you need to know and what you need to ask to get a reasonable price on professional stone floor cleaning.
Professional Stone Floor Cleaning Pricing
You can help keep your costs down by cleaning the stone yourself regularly. Begin by sweeping up any dirt and debris. After sweeping, focus on any stains. The source of the stain will determine the cleaning technique necessary for removal. Sometimes the color of the stain helps to pinpoint the cause.
For example, an oil-based stain, like grease, usually darkens the stone. Professionals remove oil-based stains by wiping them with a gentle liquid cleaner or ammonia.
Removing biological type statins like mildew involves diluting a combination of water and bleach, or ammonia. Always wipe the stones gently, no matter how tough the stain may seem.
Next, let's examine the factors that influence pricing so you can get a general idea of how much having your stone floors cleaned professionally will cost you.
Pricing Overview
People typically choose to have polishing done as part of a cleaning and refinishing process, but you certainly don't have to polish or refinish with every cleaning. If you want the company to polish your stone floors after cleaning, consider getting them resealed as well.
The majority of the costs in a professional stone floor cleaning is in labor. Professional services have to cover the costs of their equipment and chemicals, too, but those costs are minimal compared to labor.
Generally, cleaning a stone floor will cost an average of $0.50-$1.50 per square foot. But that price can go up or down dramatically, depending on the following:
Cleaning: $0.25-$0.40 per square foot
Honing: $2.25-$3.25 per square foot
Polishing: $3.25-$5.00 per square foot
You'll need to decide if you need general cleaning, if your stone flooring has unique problems that need addressing, or if your stone floor needs polishing.
The Material of the Stone Floor
Stone floor polishing typically gets priced by square footage, and the type of stone the floor is composed of affects the price. There are different methods of polishing for different kinds of stones, which causes the cost to fluctuate.
Here are a few of the types of stone flooring commonly found in most buildings today:
Marble: acidic liquids can etch and stain it, requiring unique cleaning materials and processes
Granite: less common than marble, but when kept sealed correctly, can resist etching and staining.
Terrazzo: a material made from a mixture of cement embedded with natural stone chips that surface after polishing. It is incredibly durable and stain-resistant, although high traffic areas can become dull
Travertine: often mistaken for marble because it is limestone, but it's softer and harder to keep polished. Scratching and dulling occurs quickly and tends to need more cleaning than other stones
Slate: wears down quickly with foot traffic to a dull finish
Cultured marble: a human-made material from stone particles mixed with resin. Commonly known to crack, it cannot be polished.
A premium stone-like terrazzo may cost more to polish ($3-$7 per square foot), while more common materials and stones like marble and travertine cost much less (around $2 per square foot) to professionally clean.
What Condition is the Floor In Now?
If you want a polished floor, but it's currently in a bad state, the cost to bring it up to standards might be higher. If it's just a restoration of a floor in pretty good shape, it may be less.
If your stone floor has significant damage or wear, then it probably needs replacing, especially when polishing cannot correctly restore the floor. Replacing the floor is usually more expensive, but it will be a better investment in the long run.
Method of Stone Floor Cleaning
In some cases, you can do the cleanings yourself, especially in between professional treatments. With proper upkeep, you're less likely to have costly stains or other problems that raise the prices with professional stone floor cleaning.
For example, suppose you decide to polish a small entryway or do a light polish in a smaller room. In that case, you can rent suitable equipment and product to do this area yourself.
While we don't recommend you do this unless you have advanced handy skills, if you do, you'll have to rent a power polisher or grinder to do this type of work. Even with the additional rental charge, it's still cheaper than hiring a professional to do this area. If your company is on a tight budget, save the larger, more heavily stained areas for the pros.
Polishing stones take a delicate touch with proper cleaners and equipment. If you're not familiar with this process, hire someone who is regardless of the size of the space.
Depending on the type of stone flooring you have, the variety of problems you're experiencing, the wear that has occurred, and the company you choose to hire, you'll find that your stone floor can get polished using a few different methods. Costs will vary, and the cleaning company representative should go over the best methods to suit your needs.
While costs may not vary much between methods on floors that have the same levels of wear and tear, you will find that those floors with more damage may require a much more invasive treatment, which can cause the price to increase substantially.
Average Pricing of Polishing Stones Per Square Foot
Pricing across the nation is generally consistent. Fixr.com lists the following price points for some of the more common materials: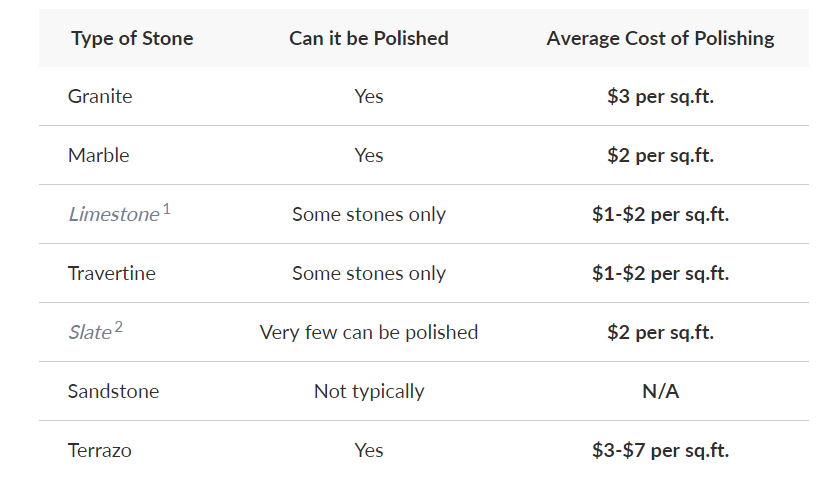 Get a Ballpark Cost
As you can see, there's a huge price variance depending on what your cleaning company needs to work with. Estimates within this article do not contain local taxes and are averages based on national cost. You could spend more or less on your stone floor, depending on your specification.
If you want an exact quote on your floor, get a picture on your phone, and then get a custom quote. We'll make sure you get the services you need without paying for the ones you don't.