Don't overpay for commercial janitorial services. Commercial janitorial services offer help for various businesses like restaurants, medical facilities, churches, schools, offices, and retail locations. Because of this, the average price can vary significantly for janitorial services.
The best companies will all price similarly, but they don't all do bidding the same way. It's important to know what you should be paying for and what impacts pricing. The last thing you want to do is overpay for things you don't need or underpay and not get the cleaning level you require.
How Much Should Commercial Janitorial Services Cost?
The cost will vary between businesses as there are a lot of factors to consider. Some companies may only hire a janitorial service to come in for a one-time service, while others will use the service on a daily or ongoing basis.
We don't want you to overpay for commercial janitorial services. We also don't want someone to give you a low cost, resulting in buyer's remorse down the road. Some companies prey on others, doing shoddy work, and cutting corners while charging inflated prices.
We want to help you avoid these situations. Understanding the cost of commercial janitorial services requires looking at some of the variables involved. Let's take a look at five factors that can impact commercial janitorial service costs.
Size of Your Space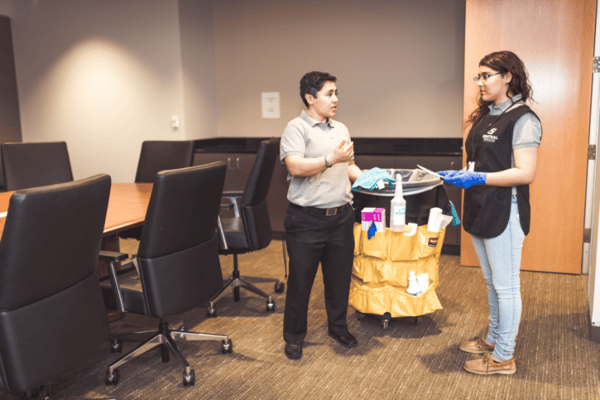 How big is the space you need to clean? This size of your area is a primary factor in the pricing of janitorial services. Knowing your square footage is a great way to get an estimated figure on how much you could be paying for commercial janitorial services.
The national average cost per square foot is $0.07 to $0.15 — that means offices up to 40,000 square feet could cost you up to $6,000 per cleaning. Prices will also vary based on other factors such as the kind of janitorial services you need, whether you need disinfection services, cleaning frequency, and COVID-19 government regulations.
Don't guess what a reasonable rate is for janitorial services. Request a custom proposal, and we'll tell you exactly what it will cost for Sentral Services to handle your janitorial cleaning.
The Kind of Janitorial Services You Need
Are you a smaller business with low foot traffic or a larger one with heavy traffic? The volume of space, how many employees, and whether or not you have customers on-site will determine your level of cleanliness. The dirtier the establishment, the higher level of cleaning resources and materials that will be required.
It's best to start with a list of the things you would like the janitorial services company to accomplish. Would you like them to clean all the floors - and what types of floors do you have? Do you need curtains washed or blinds dusted? Will you want them to mop, vacuum, polish floors, or dust all areas or just specific spaces? Are you requesting appliance cleaning and trash services?
You will need to decide what you would like the janitorial service to do and what level of expectations you have. Are you looking to have someone do some of the smaller things that may be overlooked by other companies, like have the coffee pots filled with water and a new filter before they leave so they are ready to go first thing in the morning?
Make a list of the essential supplies. Will you be providing them, or do you want the commercial janitorial service to provide them? Do you want the janitorial service to restock paper supplies in the break rooms, restrooms, and other business areas? Be sure to list this and any standards you have for procedures.
All of these things will make a difference in pricing.
At Sentral Services, we offer all your janitorial service needs, including restroom sanitation, floor care, upholstery cleaning, and disinfection services.
Cleaning Frequency
Are you going to need your establishment cleaned on a specific schedule? Whether you want daily, weekly, bi-monthly, monthly, or quarterly cleaning, the frequency of janitorial cleaning services will impact costs. Some janitorial services will offer you a discount per visit if you prepay or keep their company on retainer with a set schedule of multiple visits.
Disinfection Service Requirements
Do you need disinfecting along with cleaning? Because of COVID-19, the CDC and EPA released new guidelines your business must follow. These guidelines will vary based on your industry, so you'll want to hire a janitorial service that's familiar with the new cleaning and disinfecting requirements.
Different requirements with specific types of cleaners could impact the cost of janitorial services.
Government Regulations
With COVID-19 restrictions and CDC guidelines specific to cleaning and businesses- these will impact costs, and these costs will fluctuate based on your type of business.
At Sentral Services, we're dedicated to proper disinfection and cleaning per CDC and EPA guidelines. We'll go over your business's specific requirements, recommendations, and guidelines to find a disinfecting service to meet your needs.
Other Special Requests
Do you have something unique and special that could impact pricing?
These would be things like:
Moving furniture once a week & clean the floor underneath
Sunday services
Multiple small phases
Emergency request
Anything that you have, which is unique to your establishment, could result in a price change.
Get a Customized Quote
Ultimately, making a choice should not be based on price alone. Make sure you understand precisely what the service is bringing to the table and get an understandable explanation of everything they invoice for.
If something is not clear to you, ask. If a company tries to skirt around the answer or won't offer specifics, take this as a red flag.
If you want to cut to the end and get a quote from a company that cares - talk to us. You can get started right away on a quote for your commercial janitorial costs.
After your quote, we'll discuss scheduling a walkthrough so that our cleaning experts can tour your building with you. Together we'll work on what janitorial services are the best fit for your space and needs.