Looking for the right carpet restoration services in the Washington DC Metro area can be an overwhelming task. But don't waste time looking through the digital yellow pages. You aren't likely to find what you are looking for there.
When it comes to carpet restoration, many companies offer the service. Of these, there are a handful that will do a fantastic job that you won't regret hiring.
While the rest claim to have the services and experience you need, sometimes testimonials don't paint the whole picture.
That's why we've narrowed the carpet restoration list down to only the best and reviewed them to help you determine which company will be the best fit for your needs.
Best Carpet Restoration Services in Washington DC
There are plenty of excellent carpet restoration services in Washington, DC. To help you avoid the overwhelming feeling of vetting potential carpet restoration providers, we've narrowed down the best choices into a list of the 7 top carpet restoration services in the DC Metro area. We've highlighted some of their services so that you will have a better idea of what these companies offer.
1. Jani-King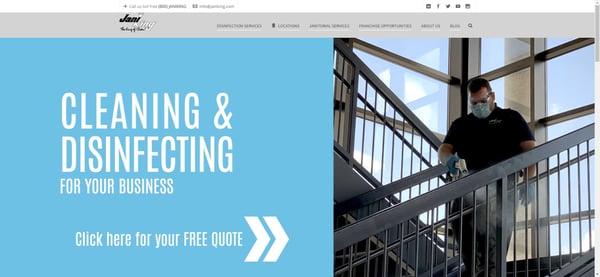 Jani-King International has been a leader in the commercial cleaning industry for over 50 years. They have developed comprehensive programs to address cleaning and disinfecting applications in settings where antibiotic pathogens have developed.
Not only do they offer carpet restoration services, but they provide janitorial and disinfection services too. Jani-King supports a wide variety of customers, including hospitals, casinos, schools, and office buildings.
"We developed a partnership with Jani King this season for cleaning services, and they have certainly lived up to their strong reputation in this industry. They have been responsive and reliable, especially in assisting us with cleaning and disinfecting projects as we prepared to convert the arena to a COVID-19 hospital site. Jani King has been a true partner from day one."
— Joe Sheridan, General Manager for Spectra, Liacouras Center
2. Red Coats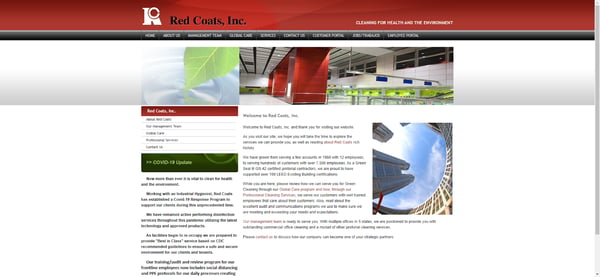 Red Coats launched their business in 1960 with only 12 employees. Since then, the professional cleaning company has seen substantial growth, now employing over 7,500 individuals.
Red Coats is a GS-42 certified company providing services in 5 different states. They support over 100 LEED Existing Building Certifications, positioning them in a lead spot to provide carpet restoration services.
Red Coats lists their carpet treatments under the Special Services Division, providing:
Carpet Cleaning
Oriental Rug Cleaning
Anti-Static Treatments
"We provide our customers the standard of service desired at the fairest possible price, and to ensure the continuation of our reputation for quality and value." — Red Coats, Inc.
3. ServiceMaster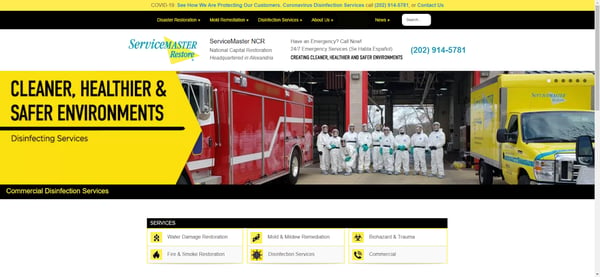 Having been in business since 1996, ServiceMaster has seen growth every year their doors have been open. In 2007, the company added mold removal to their services. In 2014, they advanced their services by becoming one of the 12 ServiceMaster Recovery Management (SRM) command and control centers for a large loss.
On top of their carpet restoration services, they offer disaster restoration, mold remediation, and disinfection services with three major locations in the Washington D.C. area.
"ServiceMaster National Capital Restoration took care of my concerns quickly and efficiently, using up-to-date technology to address the problems and to assure that the job was done right. I was very impressed with the polite manner of their workers and the company's cutting-edge methods of remediation. — C.W.
4. ABM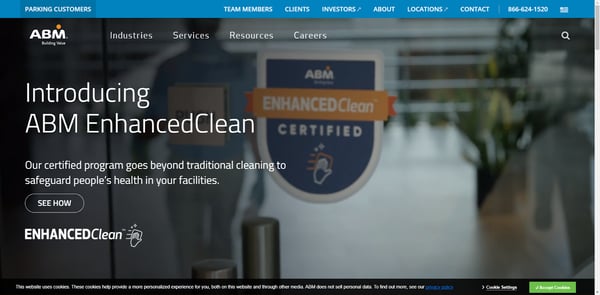 ABM started in 1909 as a small window cleaning business. Through organic growth and acquisitions, ABM has expanded its platform with integrated services and broad capabilities. Today they provide support across more than 10 service areas in more than 15 industries, carpet restoration for banks, health care facilities, and manufacturing plants.
5. PMM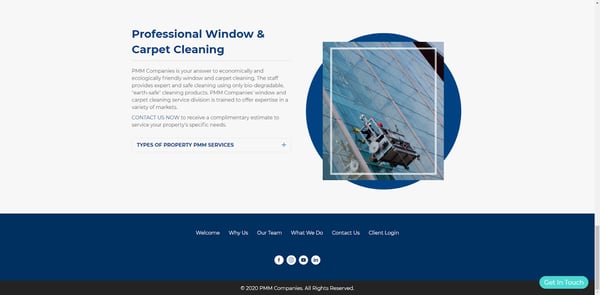 PPM Companies are more than just a leader in carpet restoration - they're active partners in their clients' businesses and communities. For more than 40 years, they've followed their family-owned and operated the company's core values - respect, integrity, and excellent service.
PPM Companies provide economically and ecologically friendly carpet cleaning. The staff will provide expert and safe cleaning using only biodegradable, earth-friendly cleaning products. PPM Companies carpet-restoration service division offers expertise in a variety of markets.
PPM services many high rise buildings, churches and synagogues, retail stores, and restaurants.
6. Palm Services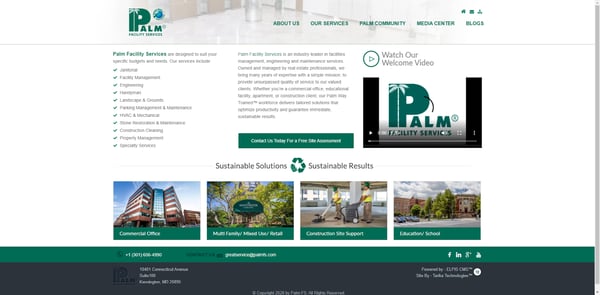 Palm Facility Services, formed in 2005 to fill the void of a people-first, client-centric facility service company in the industry. The founders are real estate professionals and understand carpet restoration service clients' wants and needs in the Washington DC Metro area.
Palm Facility Services offer sustainable solutions with sustainable results while continuing to dedicate their time and energy to providing clients the best possible experience.
Palm Facility Services offers carpet cleaning, restoration, and disinfecting services for commercial offices, construction sites, schools, and more.
7. Sentral Services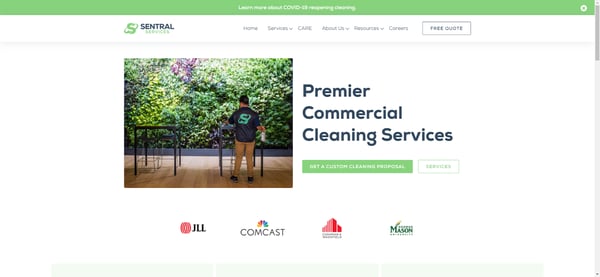 Sentral Services is committed to providing a premium carpet restoration service by getting to know our clients and their needs. We'll tour your space, giving us the ability to customize the perfect restoration proposal for you within your budget.
We'll use the best materials, tools, and equipment available on the market today to ensure our team delivers the best work for every job. We offer standard carpet care, as well as specialty floor cleaning and restoration.
We provide carpet care and carpet restoration across several industries, including warehousing, educational, healthcare, government, medical, commercial, corporate, and institutional.
We use the CARE Methodology when servicing our clients. The CARE Methodology gives us the framework to ensure everything we do, every task we take on, has the potential to deliver excellence.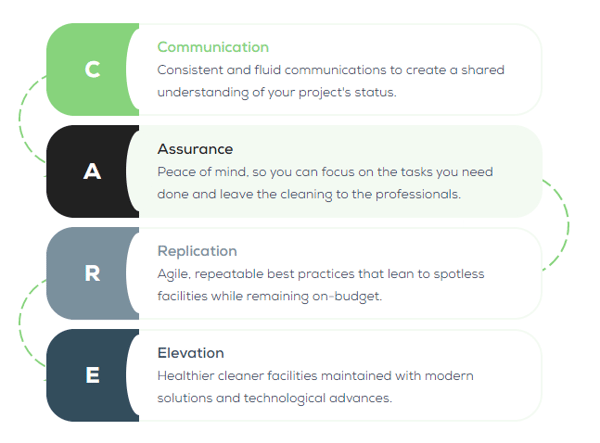 It's important to us that our clients feel they have a restoration and cleaning partner they can trust to complete their tasks while providing a healthy, clean environment for their establishment.
How we work:
We'll align our team with yours.
Deliver our work.
Review our work.
The Easiest Way to Get the Best
We are a bit biased, but we would love to earn your business.
Don't just take our word for it. Our clients speak for us.
"One of the best things about Sentral Services is that I know I can count on them to respond quickly, and when they do, they make it right. If there is a concern, their communication is great! I like the pictures they send also. It is a great experience working with the team. I can't say enough about the,...they make us look great!" — Katy Gagnon, Facilities Coordinator for Under Armour Headquarters
"We had a late afternoon leak of contaminated water at one of my buildings inside a tenant space. I called Luis at about 4:30 in the afternoon, and he is getting a disinfectant team out there tonight. He was so professional, so concerned about getting the job done right, concerned about setting the tenant's fears to rest, and on top of all that, he was pleasant and helpful and just generally excellent. And got us exactly what we needed in a very difficult time frame. Just wanted you to know Luis rocks." — Lynn R. Rinker, Property Administrator for Avison Young.