Are you trying to find the best disinfecting services in Washington DC? Don't waste time — let us help.
We've been in the cleaning business since 2013, and we've learned which services score the highest on efficiency, price, and customer satisfaction.
We've narrowed the list down to only the highest quality providers, so you don't have to waste time finding the best commercial disinfecting services for your business.
The Top Commercial Disinfecting Services in DC
Each company on this list offers something a little different for your building — we're going to help you quickly weigh the pros and cons of each one.
1. Jani-King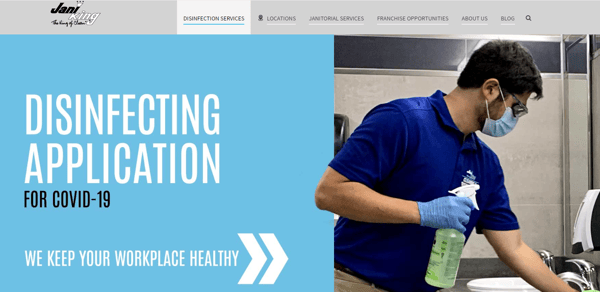 Jani-King is headquartered in Addison, Texas. They have over 120 support offices in 10 countries. They specialize in disinfecting services for office buildings, hospitals, hotels, sporting venues, restaurants, universities, manufacturing facilities, and more.
Jani-King's disinfecting service includes:
Using electrostatic sprayers, pump or battery sprayers, or a manual spray process
Use of hospital grade, EPA registered disinfectants
Adherence to CDC guidelines, including Personal Protective Equipment (PPE)
Focus on high-traffic areas including light switches, handrails, elevator buttons, door handles and entryway doors, restroom faucets and dispensers, phones, keyboards, and mouse devices
"Jani-King has stood out simply by being intentional about their processes."
— Mike Chapple VP of Operations Remington Park
2. Red Coats

Red Coats, Inc opened their doors in 1960. They started with just twelve employees and have expanded to multiple locations over five different states.
Red Coats provides cleaning services for commercial office buildings, residential homes, educational buildings, municipalities, and arts and entertainment facilities.
Their COVID-19 disinfection services were designed to adhere to CDC guidelines. Electrostatic Spray Technology (EST) is the cornerstone of their EST Disinfecting Program. Features of the program include:
Using EST to disinfect effectively and at cost savings (up to 50% on chemicals and 45% on labor)
Flexible COVID-19 disinfecting options: regular maintenance, cleaning after a known illness, or cleaning after an outbreak.
Cleaning areas of focus per CDC guidelines: electronic equipment (monitors, keyboards, touchscreens, phones, remote controls), soft items (carpet upholstery, furniture, window treatments), and high-touch surfaces (light switches, counters, tabletops, door handles, bathrooms, handrails and more).
3. ServiceMaster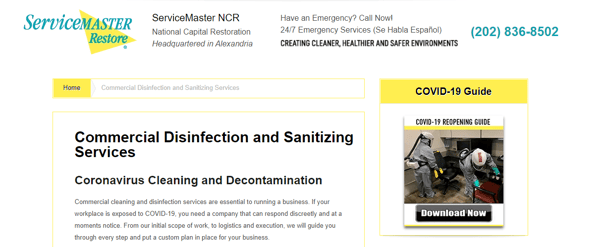 ServiceMaster is a family-owned and operated cleaning service. Since 1986 they have been creating cleaner, healthier, and safer environments for their customers.
Service Master's disinfecting services include Coronavirus outbreak response specifically for secure government buildings, military bases, and other spaces that require a high level of sensitivity and logistical planning.
Specific to coronavirus disinfection services, ServiceMaster provides:
A team trained in commercial disinfection and with experience cleaning buildings exposed to COVID-19.
Technicians who employ full PPE, including HEPA respirators, and follow strict safety protocols above and beyond the CDC's minimum standards.
The use of EPA-approved chemicals in disinfecting for coronavirus.
"Excellent service. Easy to work with. Informative. Discussed options in-depth and executed timely and thoroughly. I highly recommend the team." — Review by M.D.
4. ABM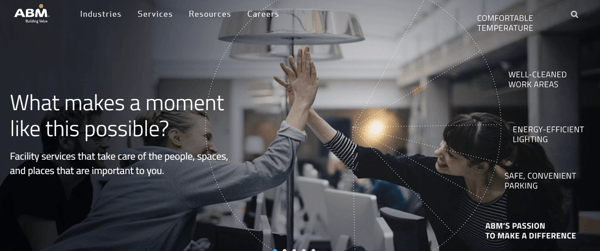 ABM provides a wide variety of services with a team of over 140,000 skilled and hardworking professionals.
ABM specializes in commercial disinfection services for aviation, banking, technology, commercial office buildings, real estate, warehousing, and much more.
Their EnhancedClean program was developed with the help of infections disease and industrial cleaning experts. It includes a three-step cleaning process:
Return Safely: a comprehensive site assessment followed by a one-time cleaning.
Frequent High-Touch Disinfection: recurring cleaning and disinfection services.
Disinfect Broadly: broader disinfection that goes above high-touch disinfection using electrostatic spraying technology.
ABM EnhanceClean team members undergo training that reflects the latest knowledge from the CDC, Public Health of England, and other health organizations worldwide.
"Before EnhancedClean, we were struggling to keep up with the latest best practices. The guidance kept changing. Now, ABM does that for us." — source
5. PMM Companies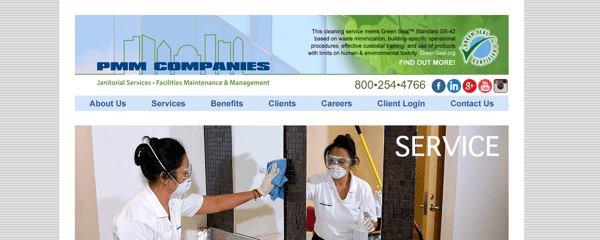 PMM Companies was founded in 1977 and services customers in the greater Washington, DC, Baltimore, MD, and Boca Raton, FL areas.
All PMM disinfection plans are aligned with CDC guidelines and OSHA state and local requirements. Their cleaning plans are also developed to follow Green Seal® certification protocols.
PMM has a 360° disinfection protocol that includes:
High-speed disinfection (HSD) to disinfect large areas and hard-to-reach areas
High-tech electrostatic and atomizing sprayers
EPA-registered chemicals
Prolonged inhibitor (PI) technology for extended protection
"My experience with PMM has been exceptional, and as a result, I will be bringing PMM to the balance of my portfolio, located in downtown Washington, DC."
— Amy Borgerding, CPM, RPA, Regional Portfolio Director, Behringer Harvard
6. Palm Facility Services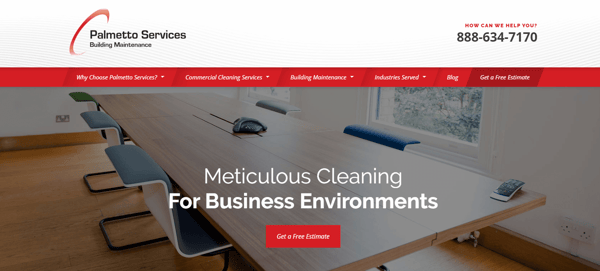 Palm Facility Services is owned and managed by real estate professionals. They specialize in working with commercial offices, educational institutions, apartment complexes, and construction companies.
Palm's services include:
Janitorial and facility management
Engineering
Handyman
Landscape and grounds maintenance
Parking management and maintenance
HVAC and mechanical
Construction Cleaning
"Palm Facility Services has been more than just a cleaning service for our facilities...As real estate professionals, they truly understand the operational logistics of our day-to-day priorities and diverse facility needs."
— Mark Emory, Facilities Manager at Gonzaga College High School
7. Sentral Services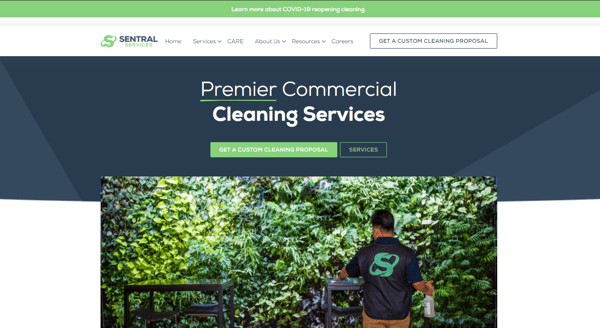 Sentral Services is a cleaning company with a highly-trained and experienced team that provides cleaning and disinfection services for a wide array of facilities. We take great pride in our ability to understand your budget and your building's needs.
We provide regular disinfection services and a targeted and complete reopening cleaning service for companies that had to shut their doors due to COVID.
Our COVID-19 Reopening Cleaning has four simple steps:
A complimentary and complete building assessment that includes a detailed scope for the work you require.
When you're ready, we'll execute a one-time reopening cleaning to get your building ready.
When the cleaning is done, we'll provide you with our list of recommendations to maintain that standard of cleanliness.
Finally, you can reopen your doors with a building that looks, smells, and feels brand new.
"One of the best things about Sentral Services is that I know I can count on them to respond quickly and when they do they make it right. If there is a concern, their communication is great! I like the pictures they send also. It is a great experience working with the team. I can't say enough about the,...they make us look great!"
- Katy Gagnon, Facilities Coordinator for Under Armour Headquarters