No one wants to be surprised by commercial cleaning prices when they're searching for a company to hire, but it's an unavoidable expense when you own or manage a building.
An environment that isn't clean hurts productivity and morale and can make people sick. It is unappealing to your clients and reflects poorly on you and your business.
Try getting new tenants or clients with distracting odors from your bathroom or your trash can hanging in the air, drawing their attention. No one wants to do business in a dirty building.
Since commercial cleaning is a mandatory cost, we think it's important that you know what to expect. That's why we created a list of the top variables that impact pricing.
Commercial Cleaning Prices: 4 Variables that Affect the Cost
High costs don't guarantee excellent service, just like low costs don't mean it is necessarily going to be terrible. We recommend calling in a professional to determine what cleaning services you should or should not be paying for.
At Sentral Services, we know that you want to get the best quality of service without going over your budget. That's why we offer a custom proposal so you can find out how your current cleaning services stack up, and what services our experts recommend you need.
To discover the gaps in your cleaning service and save your time, money, and reputation, schedule your free audit now.
Keep reading to learn about the top 3 variables that influence the cost of cleaning services.
1. Square Footage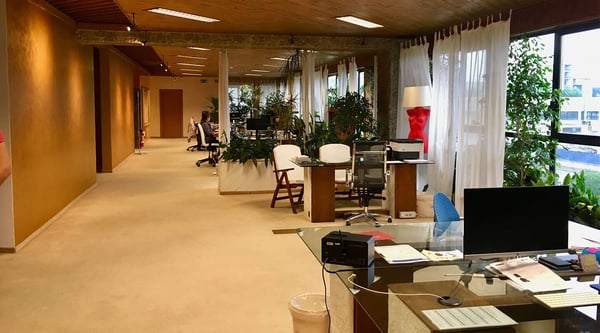 The size of your building and how many rooms you have has the most significant impact on overall costs.
Large buildings need larger cleaning crews, more supplies, and they take more time to clean. Add to that an abundance of rooms, and your costs go up.
Buildings that have fewer rooms and bathrooms are less expensive. It is quick and simple to clean your building if it has an open floor plan without much furniture.
The most expensive buildings to clean are going to have multiple cubicles, more bathrooms, and lots of furniture.
You can find a list of the national averages for one-time commercial cleanings at thumbtack.com.
Related Reading: Commercial Cleaning Services: 6 Questions to Ask Before Hiring
2. Work Volume
Do you have a building that sees a lot of traffic for extended periods throughout the day?
The more traffic your building gets and the more days per week it's open means you'll need to get it cleaned more often.
Buildings that are open for business five days a week need to be cleaned five days a week. Your crew should clean nightly before opening the next morning.
Buildings that see a lower amount of traffic need less frequent cleanings and are cheaper to maintain.
Do you need cleaning crews to come in and clean on the weekends? That affects the price as well. It costs more to have your building cleaned on weekends vs. weekdays.
3. Types of Areas That Need Cleaning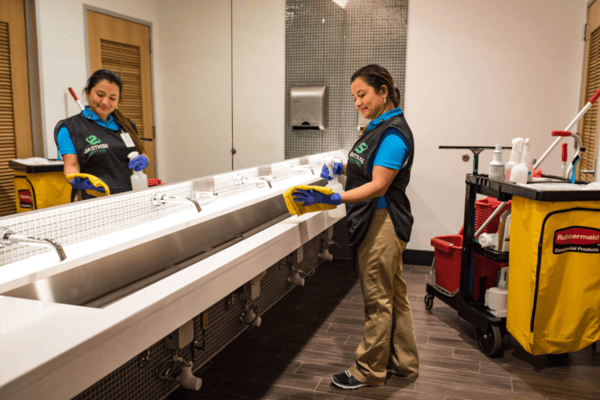 How many bathrooms does your building have? Only one or two bathrooms? Or is it a larger building with more restrooms that need to be cleaned?
The sanitation requirements of bathrooms increase the price because they take longer to clean, and they are more of a challenge to clean properly. They have many surfaces that all need thorough attention. Toilet bowls and sinks must be scrubbed and sanitized, floors and possibly walls mopped and washed, and refill the toilet paper and hand towel holders.
Offices with cubicles and high-trafficked floors will require more time and supplies to maintain, but you don't do your bottom line any favors if you neglect them. Floors that aren't maintained will quickly deteriorate and will need replacing.
Does your building have multiple windows on different floors? Lots of windows mean a higher cost too.
Related Reading: What Does a Commercial Cleaning Service Cost in 2020?
4. The Types of Services You Need
The types of floors, walls, and furniture you have determines what kinds of services you are going to need.
Rooms with carpet require different upkeep and different cleaning supplies than rooms with wood or marble flooring. Your marble, stone, and hardwood floors will need routine refinishing and maintenance that carpet or other floor types wouldn't need. Carpets are a dirt magnet that must be vacuumed daily and cleaned regularly, especially in high-traffic areas.
Do you need a specialty service such as a construction site or event clean up? Those types of situations require a different level of cleaning, and so they typically cost more than routine maintenance and cleaning services do.
Some of the services we provide at Sentral Services include:
Carpet restoration and deep cleaning.
Specialty floor restoration and cleaning.
Raised floor cleaning.
Hardwood, marble, and stone maintenance and refinishing.
Restroom sanitation.
Upholstery cleaning.
Power washing.
Trash removal.
Recycling.
This is only a partial list of the services we provide to give you an idea of what you might need. For a full list of our services, visit the following page: Sentral Services: White-Glove Janitorial Services.
How to Determine Your Cost for Cleaning Services
You could spend several hours or days comparing prices and reading reviews, but is that really how you want to spend your time?
Let us do the hard work for you by performing a full sweep audit instead.
When you request a full sweep audit, one of our experts will come out and do a walkthrough of your building.
The expert will assess your needs and recommend the services your building requires. He will be able to tell if your building has been subject to some of the common mistakes other commercial cleaners make. He will point out where he sees evidence of their inefficiency, or if they used dangerous chemicals, or if they didn't communicate about potential problems.
Let him know what your budget limitations are, and he'll be able to work with you to make sure you get the services you need without going over budget.
We've worked with a wide range of clients across several industries—like Comcast and George Mason University— and we're confident that we can help you too.
Schedule your custom proposal now and find out precisely what it will cost to keep your building squeaky clean.