There are dozens of reasons to thoroughly vet the company that you hire for your commercial cleaning needs. This company is in your building at night and trusted with its maintenance. So, it's critical that you choose the right company.
Hiring the right company often comes down to the questions you ask.
Every company will claim to have "five-star customer service" and "years of experience," but when you ask about the details, the top performers start to stand out.
But what questions do you ask?
To help you choose the right company for you, we've created a list of six questions you need to ask commercial cleaning services before you hire them. These questions are the fastest way to find the best fit cleaner for you.
6 Questions to Ask Commercial Cleaning Services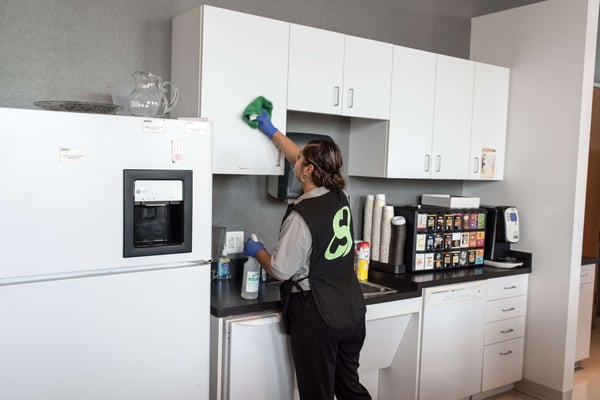 Many companies focus on the price of their hire — but they should be more focused on the quality of the service they're getting.
That's why we offer a custom proposal. We believe that coming on-site and talking with you about your needs while examining your facilities is the only way to truly provide an accurate quote for your specific company.
Request a custom proposal now, and we'll help you save money, time, and your companies' reputation by uncovering the current state of cleaning in your building.
Then, keep reading for six crucial questions you should ask commercial cleaning services before hiring their company. As a bonus, we've also included our answers to these questions.
1. Do you have references?
A company that is experienced and knowledgeable should have acquired some positive references from satisfied clients over time. Ask them if they have references they can contact so you can find out what their former clients have to say about them.
This allows you to find a commercial cleaning company that offers the services you require at the level of quality you expect.
You'll also gain more insight into how they helped their clients and what kind of customer service you can anticipate receiving.
Be wary of any companies who refuse to provide you with a list of references.
Our Answer:
Sentral Services has been providing top-notch commercial cleaning services for our clients for years. Some of our former clients include Comcast, JLL, Cushman & Wakefield, and George Mason University.
Related Reading: How to Find the Best Janitorial Services for Your Commercial Space
2. What are your rates?
While pricing isn't always an accurate measure of the quality of work, a company that's transparent about their pricing is generally more trustworthy.
Ask them what factors would increase the cost and if there are ways to reduce it. You want to receive the biggest bang for your buck while still receiving the cleaning services your building requires.
Also, make sure you understand what your cleaning needs are before you ask about pricing. Different companies have different specialties, and some offer their services in packages that could have you paying for more than you need.
Our Answer:
We utilize our Full Sweep Audit to align your cleaning needs with the best price and highest level of service. Some of the services we provide are:
Upholstery Cleaning
Trash Removal
Restroom Sanitation
Hard Surface Floor Care
Deep Carpet Cleaning and Restoration
Specialty Floor Cleaning and Restoration
Event Cleaning
Construction Site Cleaning and Much More
After we conduct the audit, we'll be able to give you a detailed and accurate cost based on your actual cleaning needs.
Related Reading: What Does a Commercial Cleaning Service Cost in 2020?
3. Do you bring your own supplies?
The best commercial cleaning companies bring their own supplies, and they care about what they bring. Companies who tell you to furnish your own supplies aren't legitimate cleaning services, and we recommend you avoid using them.
The cost of supplies should be built-in to the price your commercial cleaning company charges for their services.
Ask them about the supplies they use and what their reasons are for using them. If you care about the impact cleaning chemicals have on the environment — as we do — you'll want to use a company that shares your concerns.
Our Answer:
Our company uses only environmentally friendly chemicals with technology that actually repels the dust instead of attracting it — as many off-the-shelf-products do.
We bring our own supplies and use products that are better for the environment because we believe that you deserve that high level of service.
4. What's your process for hiring?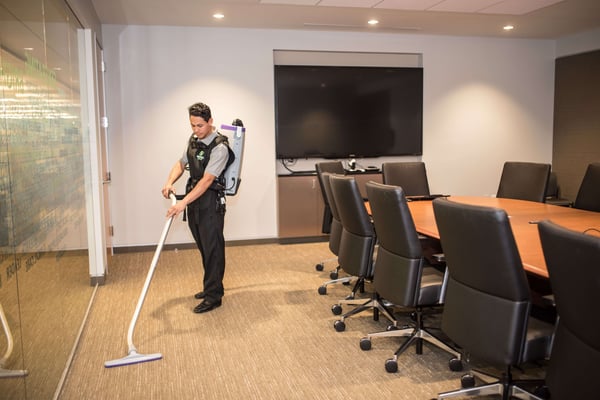 It may feel weird to pry by asking such an intimate question, but this is important.
People will be in your building at night without supervision, and you need to know that you can trust them while they're there.
Don't hire a company that doesn't perform background checks on their staff, and find out how management supports the on-site supervisors and team members, along with training.
Are new hires supervised for a certain amount of time on the job before they are allowed to be alone?
If so, how long are they going to be supervised for?
Our Answer:
At Sentral Services, we take your trust seriously, and we want you to feel comfortable allowing our employees into your building at all hours of the day and night. All of our employees are thoroughly screened and trained under close supervision.
5. Are you insured?
Accidents happen — people fall, and windows break. When the problem is caused by your cleaning services, though, it shouldn't be your financial responsibility.
An experienced commercial cleaning company should carry liability insurance to prevent you and them from being liable should an accident occur.
They should provide you with proof of insurance and business licensing when you ask.
Companies that aren't insured are companies that you want to avoid. You could end up paying way more for cleaning services than you planned if an accident occurs and your company is sued.
Our Answer:
Sentral Services is covered by liability insurance, and we would be happy to provide you with proof of insurance and our licensing upon request.
6. Do you offer walkthroughs?
A company worth hiring is going to answer all the questions above, but they should also be willing to meet you on your turf and tour your building.
The best companies will provide their thoughts on your building's current state of cleanliness, and they'll also provide an expert opinion on what services you should actually be paying for.
Our Answer:
Sentral Services provides a Full Sweep Audit so we can help you do all that and much more. Our team of professionals will tour your facility and help you spot the gaps in your current cleaning services.
Asking the Right Questions
Knowing what to ask is half the battle. If you know what questions will paint the best picture of a company's performance, you'll end with significantly better results for your search. And if you still need a second set of eyes, request a custom proposal and discover what's happening with your cleaning services — the good, the bad, and the ugly.