Finding the right janitorial services can be challenging, and it's one of those tasks that no one looks forward to. You have to search through dozens of websites, request proposals, schedule times for the various services to come see your company, and compare references.
You have a busy schedule and you want a company that's more presentable. But, how do you find the right company to meet your needs without investing weeks of your time that you don't have?
In this article, we're going to show you how to prioritize your search steps so that you can get back to the rest of your work as soon as possible — but in a cleaner building.
6 Priorities to Find the Right Janitorial Services for Your Building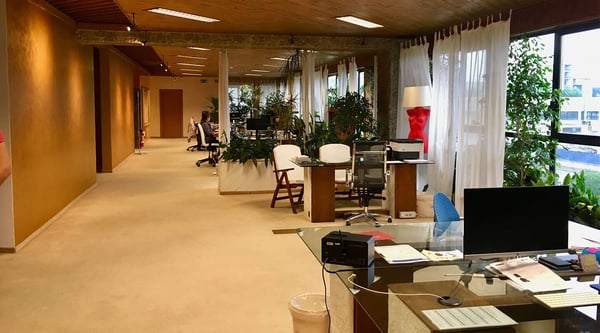 It's typical to hire a cleaning company and not get what you paid for. Limited communication, outdated techniques, and poor processes make some companies unreliable — and who wants to deal with all that?
It's also common for companies to simply provide the services that you ask for. But, what about the ones that you don't know you need.
You might be neglecting some cleaning tasks that are degrading your building, voiding your warranties, and even possibly leaving dangerous chemicals lingering where they can cause odors and attract more dust.
We're going to show you how to find a really reputable company, but we also want you to know we are one of those companies. We believe that we provide the best services and deliver the most bang for your buck when it comes to cleaning services.
You can read this article and take the time to understand how to find the best service, but you can also request our Full Sweep Audit and spend your time finding a solution instead of trying to find another provider.
1. Establish Your Commercial Cleaning Needs
Your first step needs to be making a list of what your cleaning needs are. Different commercial cleaning companies will have different specialties, so you need to be able to determine if they can meet your needs.
Do you need floor care, general cleaning, or more specialized services?
At Sentral Services, we offer a wide range of janitorial services to specialty cleaning solutions. Are you hosting a special event? Not a problem. What about cleaning services for your construction site? We've got you covered there too.
Here are a few examples of the services we offer:
Deep Carpet Cleaning and Restoration
Specialty Floor Cleaning and Restoration
Hard Surface Floor Care
Restroom Sanitation
Upholstery Cleaning
Trash Removal
Event Cleaning
And more...
2. Talk To Companies You Trust
Before you choose a random cleaning company that you found online, ask some other business owners who they use for cleaning. Investigate the cleanliness of their building for yourself and ask them for their feedback about who they use.
Do a thorough background check on any company you're seriously considering hiring.
Make sure that they have a good rating on the BBB website.
Look for online reviews from former clients.
Ask them if they have liability insurance coverage for their company. They should provide you with proof of insurance and business licensing.
Are the employees contract workers or regular part-time/full-time employees?
Companies that hire regular employees are the ones that are most likely to carry liability insurance. Liability insurance protects you and the cleaning company from liability or injury should a worker have an accident while cleaning your building.
Also, check if they support some of the corporate organizations you're involved in. This won't make or break your relationship, but can give you insights into whether your janitorial services support your corporate mission and belief.
3. Conduct Your Search
Search local commercial cleaning companies online to get an idea of the services they provide and their pricing. Compare the different companies and make a list of pros and cons to narrow down your options.
Pro Tip: Make a list of your criteria before you begin your search. You want to be sure to compare apples to apples within the range of services that you need.
Conduct your search on sites such as Google, Angie's List, and the Yellow Pages.
Browse through the reviews to get an idea of what their former clients have to say about the quality of their service.
Do they have a website or social media pages? Search for their company on sites like Facebook or LinkedIn to see what they're sharing.
Do they have a blog? Find out how knowledgeable they are about their trade and what products or services they recommend by reading some of their posts.
4. Ask the Right Questions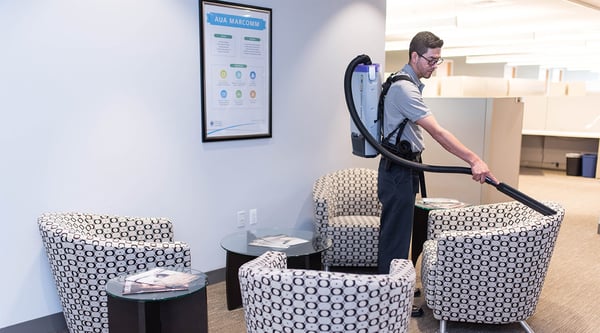 It's crucial that you ask the right questions before you hire a commercial cleaning company. You need to fully understand what you're buying and set the right expectation for what you want to receive.
Here are a few questions that you should ask every company when you ask for a quote:
Do you have references?
Can you walk me through your pricing/bid?
Can you meet the team lead for my building?
Are you insured?
What kind of cleaners do you use?
Can you monitor their work?
Can you trust them to be in your building at night?
Jot down the answers to their questions so you can compare the answers you got from each company you received a quote from.
Don't forget, DO NOT hire a cleaning company that doesn't have liability insurance. If one cleaner has an accident on your property, the impact can be devastating.
5. Request a Building Walkthrough
You need to request a building walkthrough so a member of their staff can recommend cleaning services that fit your unique needs. This also gives you a chance to see if what they have planned for your building makes sense and that they seem knowledgeable about their trade.
At Sentral Services, we provide a Full Sweep Audit before working with any of our clients. We want to ensure that we are all on the same page, and that all of your questions and concerns are discussed to your satisfaction.
We believe that this step is crucial. If a company hasn't seen your building and talked with you about your needs, how can they make the right recommendations?
6. Get Multiple Bids
Don't dive right in with the first cleaning company that appears to check all the right boxes. Take the time to receive quotes from multiple providers.
Talk to their staff at length and get a feel for how fast they get back to you when you have questions. We stand by our services and the cleaning products we use, and we are confident that our company can provide you the best possible service for the best price.
Find out more about how Sentral Services can meet your unique commercial cleaning needs. Requesting your Free Audit now and look forward to less stress and a cleaner office.