Don't drop the ball on the first impression.
Construction cleaning can often be an afterthought. However, it's one of the most important parts of a construction project. If the cleaning is sub-par, the client will feel let down when the job site is left messy regardless of the construction quality.
A common misconception when it comes to post-construction cleaning is that it's just like a normal maintenance cleaning or deep cleaning, but that's not the case.
New construction buildings offer a few challenges to normal cleaning. Builder's dust can destroy ordinary vacuum cleaners. Paper on the floors to keep it from getting damaged leaves behind tape residue that requires special cleaners to remove. Stickers on the new windows will need to be peeled off or require a razor to remove them.
You can't trust just anyone with this kind of cleanup. Not every cleaning company has the necessary equipment, cleaners, and "know-how" to get the job done right. To help you choose a cleaning company that you'll be happy with, we've put together a list of what you should expect from their services to make the right choice when it comes to a post-construction cleaning partner.
Getting the Best Post-Construction Cleaning Services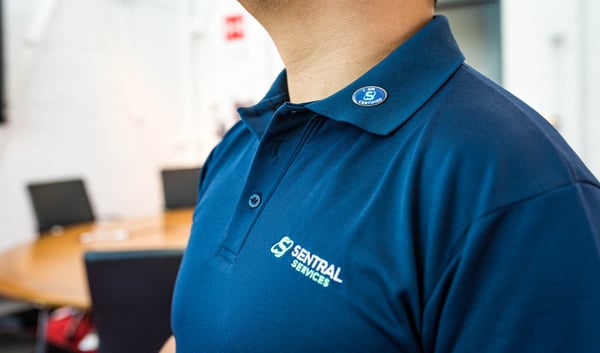 Don't settle for anything less than the best when choosing the right post-construction cleaning services. Going with the wrong company can leave you embarrassed and failing to sell your building because potential buyers came in to look, and it's still a mess. Make sure the company you choose provides the following:
1. An Itemized List
A common mistake when hiring a cleaning company is not having a specified scope. This is critical for success with a post-construction project as it's much different than routine cleaning.
You should look for companies with experience, who can assist in building your scope, as their expertise will identify areas for cleaning you may have overlooked.
In the scope, also be sure to capture any cleaners that are required for your job. Without requesting environmentally friendly solutions, some cleaners will use the option.
2. Proactive Communication
You don't want a cleaning service that makes assumptions, as this can often lead to mistakes. You need a company that communicates clearly and provides constant updates on progress.
At Sentral Services, we keep you in the loop on our progress with clear communication and frequent updates. Included in our progress updates are often photos of job performance so you can monitor how the job is going. You'll want the company you choose to hire to do the same.
3. Detail-Based Cleaning
It's hard to have a strict process for construction cleaning as every job is different. With regular janitorial services, teams can follow a scripted process to ensure nothing is missed. With post-construction, team members need to be detail-oriented.
For example, with janitorial, areas like the tops of doors or room corners aren't cleaned on a daily basis. With post-construction, they need to be maintained to remove all the dust that accumulated during the project.
4. Umbrella Insurance
One of the best ways to make sure your post-construction cleaning crew is worth their salt is to see how much insurance they're covered. Many inexperienced companies will neglect umbrella insurance, putting your newly completed project at risk.
Verifying the post-construction cleaning company has insurance is an easy way to determine their level of expertise, as well as weed out the companies that don't follow certain safety protocols. Most insurance companies require the individuals covered to wear proper PPE and take certain precautions on the job site.
5. A Quality Track Record
Post-construction cleaning has a low barrier of entry, meaning two guys and a pickup can become a company really quickly with no experience and no work ethic. You want a company that has been around and knows what they're doing.
Take time to research the companies you're interested in and see what their customers have to say about their services. That'll help you weed out companies that won't be a good fit for your needs.
Get a Customized Quote
If you want a company that cares about the quality of their work and customer satisfaction, look no further. We don't expect you to just take our word for it, though. Here's what a few of our customers have to say about their experience using our services:
"Ok, you are going to think they are paying me, but I LOVE THEM!!! They are amazing and better than all of the cleaning vendors I've dealt with." - Jerry Grill, Mosley Construction Group

"I am your biggest fan. Ever since Sentral took over here, it has been so amazing. One of the best things about Sentral Services is that I know I can count on them to respond quickly and when they do they make it right." - Kathy Gagnon, Facilities Coordinator at Under Armour Headquarters
Click here to get a customized quote and find out if we're a good fit for your post-construction cleaning needs.