Looking for construction cleaning bids can be one of the most satisfying or most frustrating parts of your project.
Let's be honest: very few companies are thinking about the cleaning service they're going to hire until the end of the project. It makes sense. Until the project is complete, you don't know what your budget or timeline for completion will look like.
If your project is on-time and on-budget, finding cleaning bids is easy. If your project had unexpected changes or issues, finding bids within your budget may feel like pulling teeth.
We understand the potential frustration, so we created a list of the four questions you should ask to get the most precise bids to get you the biggest bang for your buck.
Finding the Best Construction Cleaning Bids for Your Project
You may feel the urge to grab the lowest bid, but in some cases, the lowest bid may mean you're sacrificing quality. You want your project to shine because it's directly attached to the reputation of you and your company.
That's why it's so important to choose a commercial cleaning company that will do the job without sacrificing the quality of their work and can provide the services you need at a lower price.
At Sentral Services, we understand how important it is to hire a company that can do an exceptional job for the right price.
When you request your custom proposal, we'll send one of our experts out to your site to perform a walk-through and discuss your unique needs. Let us know what your budget is, and we'll work with you to help you get the cleaning services you need.
Request your custom proposal now or keep reading to learn what four questions you should ask to help you get the lowest construction cleaning bids with the most value.
1. What services would you recommend?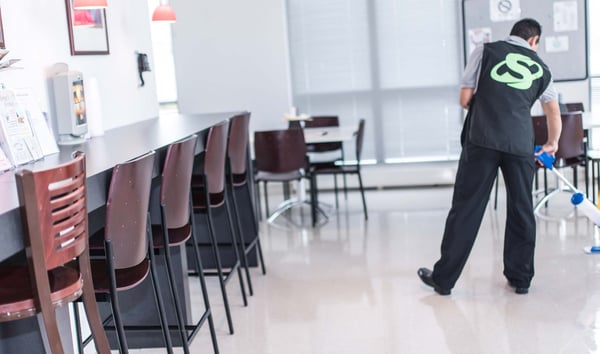 You might think you know what cleaning services you need, but you could be wrong, and as a result, it could end up costing you more money.
An experienced construction cleaning company can tell you exactly what services you need to get the job done right and prevent you from paying extra for services you don't need.
Ask the company what services they would recommend for your project and let them know what kind of budget constraints you have.
When you request a custom proposal from us, our experts will do a walk-through and tell you precisely what you need and how much it will cost you.
Related Reading: Commercial Cleaning Services: 6 Questions to Ask Before Hiring
2. How much time do you need?
Don't make assumptions for how long you think it should take a construction cleaning company to clean up your site.
Instead, ask them how fast they work and how long they think it will take to get the job done right.
If you're on a tight deadline or need them to be more flexible, just ask. Your cleaning service company might be able to recommend services you can cut or other ways to speed things up so you can meet your deadline.
When you request a custom proposal from us, we'll be able to tell you exactly how long it will take, and we can work with you when you have feasible deadlines to meet.
3. Is your staff certified through OSHA?
Whether or not the cleaning crew is OSHA certified is probably one of the most important questions you could ask when you're shopping around for a construction cleaning company to help you with your project.
Every commercial cleaning company should be certified with OSHA 10 and 30 to ensure they're safe on the job.
Companies that aren't OSHA certified could potentially leave your company on the hook for a hefty bill if one of their workers gets injured on your site.
One indicator as to whether they are certified is if their workers are wearing PPE (personal protective equipment) on the site when they clean.
Related Reading: How to Find the Best Construction Cleaning Services
4. Can you share some references?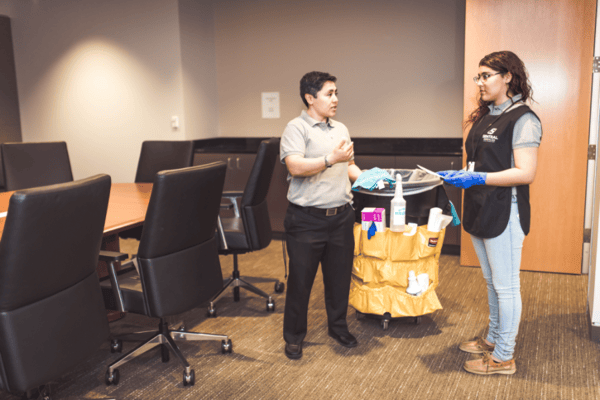 Don't hire anyone without checking for references and testimonials from their former clients.
You can research on your own by doing a simple Google search, but you should also ask them to provide you with a list of references so you can determine if they are a good fit for your project.
Seeing what their former clients have to say will paint a picture of their performance and alert you to any potential problems that would keep you from wanting to hire them before it's too late.
Knowing what kinds of companies they have worked with lets you know how familiar they are with what you'll need them to do on your construction project.
Getting Better Construction Cleaning Bids for Your Project
Don't sacrifice on quality or the services you need to stay within your budget. Choose to work with a construction cleaning company that can ensure you get what you need without breaking the bank.
At Sentral Services, we understand that you need to save money and still get the job done right. That's why we make it easy for you to get a custom proposal and find out precisely what you need and how much it's going to cost.
Once you request a custom proposal, one of our experienced team members will come out to your site and perform a walk-through.
They'll talk with you one-on-one about the services they recommend and negotiate with you until you are satisfied with the quote you receive.
We use a 3-step process on all of our construction clean-up jobs.
We prepare the site for cleaning by removing all the debris that gets left behind, such as metal or lumber.
Next, we deep clean your site, including your windows, floors, and fixtures.
The final step is the finishing touches, where we make sure your site is free of harsh chemical odors, and everything is squeaky clean.
Request your custom proposal now, and one of our experts will be happy to help you with your construction cleaning needs.