With post-construction cleaning, you need a reputable company that'll get the job done right and never let you down.
But without dedicating hundreds of hours searching, how can you find a service that's fast, reliable, and affordable for your project?
Every project has its own requirements, and while our services are top-shelf, we understand we may not meet the demands of your specific job. We'd rather be honest with you upfront than not meet your needs later.
This is why we created a list of the four best post-construction cleaning services in the mid-Atlantic. These are some of our top competitors and possibly the best fit for your project.
The 4 Top Post-Construction Cleaning Companies in the Mid-Atlantic
For many projects, construction cleaning is an after-thought. After all, if you don't have a completed project, there's nothing to clean, right?
But while many companies rush to find the cheapest cleaning service, it's important to remember that you want to put your best foot forward.
Even the best project can be marred by the smeared glass and dusty surfaces — quality matters. Request a custom proposal, and we'll illustrate exactly what we can do for you.
1. Extra Clean, Inc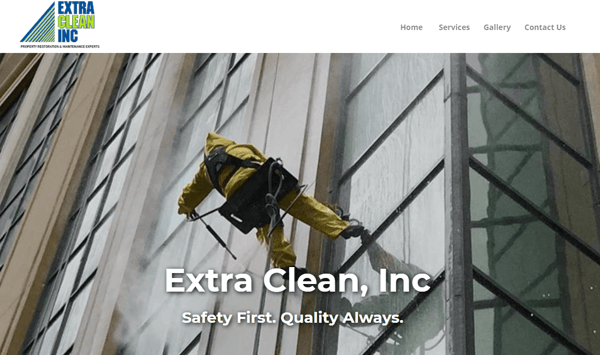 Extra Clean uses the latest technology, equipment, and supplies for post-construction clean-ups. They have over 30 years of experience providing construction cleaning services to their clients.
They are committed to reducing their impact on the environment, so they have specialized in green cleaning methods. Customer satisfaction, safety, and health is their top priority.
Some of the ways Extra Clean proves their commitment to green cleaning are:
They have implemented measures to reduce their consumption of renewable resources and their production of waste and hazardous materials.
Green initiatives are promoted through their employees, strategic partners, and suppliers.
Extra Clean has created tools to compare and analyze sustainability implications.
Their cleaning products are biodegradable and do not contain phosphates.
Microfiber dusting rags are used so dust can be collected without the need to use chemicals.
Some of the specialty services they provide are graffiti removal, metal restoration and maintenance, awning cleaning, and exterior building maintenance.
You can find out more information about their company and the post-construction cleaning services they provide on their website here: Extra Clean, Inc.
2. Marathon Building Services

Marathon Building Services has over 15 years of experience providing post-construction clean-up services to their clients.
They provide 24/7 customer support, and they guarantee that they can accommodate companies with even the most intense scheduling needs.
Customer service and quality are of the utmost importance to Marathon Building Services, and they are not afraid to go the extra mile to ensure you get what you need.
Their team consists of dedicated professionals who are trained to handle the specialized cleaning needs of companies throughout several industries.
They are LEED Gold certified for green cleaning methods, and they have specialized experience in the following facilities:
Labs
Hospitals
Educational Settings
Military Bases
Class A Commercial Spaces
"The amount of buildings we are servicing is growing exponentially. And, we are thrilled to be helping out existing customers maintain clean and healthy environments." - Marathon Building Services.
Visit the following page to find out more about their company and how they can help you with your post-construction cleaning needs: Marathon Building Services
3. Palmetto Services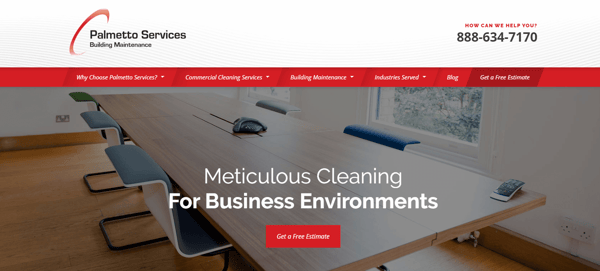 Palmetto Services has been in business for over 60 years, and they offer a three-stage post-construction cleaning service. Their process allows them to handle big or small jobs with ease.
The three stages of their post-construction cleaning process are:
An Initial Rough Cleaning: a quick cleaning that includes the removal of trash and debris, dusting, floor cleaning, removing adhesives from glass, and cleaning off paint overspray.
A Detailed Cleaning: a more thorough cleaning that includes detailing floors and baseboards, polishing fixtures, and cleaning shelves and cabinetry.
Final Touch-Ups: their professionals inspect the property for anything they missed, such as lingering dust or fingerprints on window panes.
"Through clear communication, a customer-first attitude, and a dedication to highly trained professionals, Palmetto Services has been able to create lasting relationships in the commercial cleaning services community. We look forward to understanding and serving your unique maintenance needs." - Ryland Cook, Palmetto Services
Palmetto Services will provide a customized quote for you, and they'll ask you probing questions to make sure you get the most out of the cleaning services they have to offer for post-construction clean-up jobs.
Get more information about their company and the services they provide on their website here: Palmetto Services
4. Sentral Services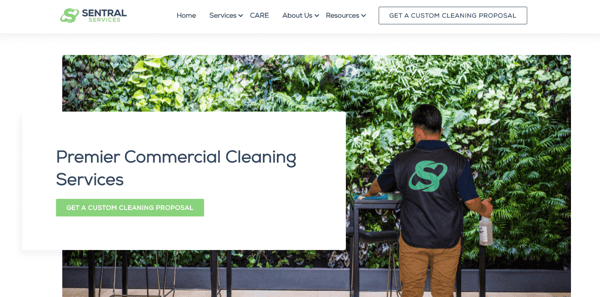 There's a lot to consider before selecting a commercial cleaning service to handle your post-construction clean-up jobs.
Your budget and time limit you, but you shouldn't have to skimp on quality or pay more to get the cleaning services you need.
Hiring the right company doesn't have to be a challenge. Sentral Services is a company you can trust to provide top quality post-construction cleaning services that deliver the biggest bang for your buck.
Our three stages of our post-construction clean-up are:
Site Preparation: our team of professionals will remove all debris from the site — such as lumber, metal, glass, or other materials.
Professional Cleaning: the facility will be thoroughly cleaned with the best supplies and environmentally friendly products until it's spotless.
Finishing Touches: our team will inspect the facility and complete any cleaning tasks that were missed.
Allow our team of professionals to tour your facilities and provide you with a detailed, customized quote.
You'll simply provide us with your zip code, select the services you need, select a date you would like us to come out, and give us your contact information so we can confirm the appointment.
We've helped clients such as Comcast and George Mason University with their cleaning needs, and we're confident that we can help you too.
Request your custom proposal now, and we'll tell you exactly what post-construction cleaning services you need to get the job done right.