When it comes to construction cleaning, you want someone fast and reliable. You want a move-in ready space, and you definitely don't want to micro-manage. Not every construction cleaning business is affordable, trustworthy, and professional, but how do you avoid hiring the ones who can't deliver?
Construction cleaning usually isn't a priority until the end stages of a project. Many projects only need post-construction cleaning, so hiring a provider is one of the last requirements to be checked off. When custodial service is all that stands between you and completion, you want someone who can quickly bring the site up to standard and communicate every step of the way.
Scheduling and resourcing can be chaotic in construction, especially when you're getting close to wrapping a job. You somehow need to find a cleaning service that meets your requirements and budget. We're going to show you how to find the best construction cleaning service, so you never have to worry about quality, communication, or delays ever again.
6 Steps to Finding the Best Construction Cleaning Services
Hiring the first company you find is risky, even if you're extremely short on time. Dedicate some time searching for options and getting multiple proposals. Remember, you only need to find the best construction cleaning services company once. When you find someone who's reasonably-priced and trustworthy, you've got a resource you can call for future projects.
If you're ready to start searching, you can request a custom proposal and a full sweep audit of your construction site from Sentral Services.
The best isn't universal. The best construction cleaning crew for daily labor may be different than the best option for finalizing a job site. Understanding your needs, researching options, and getting multiple bids can help you identify the best service for you.
Step 1: Determine Your Construction Cleaning Needs
What type of construction cleaning service do you need?
Are you looking for a final cleaning to put finishing touches on a site before the lobby doors open? Do you need power washing or site preparation services?
Maybe you're not entirely sure what types of service you need. You know the site isn't clean, but you're not sure of the details.
A basic idea of your needs will make searching much easier. You can narrow your research to cleaning companies who specialize in daily cleaning labor or detailed move-in preparation. You can also fast-track cleaners who perform a full-site audit to understand your cleaning project scope better.
Step 2: Talk To Other Construction Companies
It doesn't hurt to ask other construction companies who they use or what their experiences have been like. They can provide first-hand insights you can't always get from online reviews. Peers and competitors have often experienced excellent and not-so-great construction cleaning services. Local contractors often know first-hand which cleaning crews can perform under pressure.
You may find other construction companies give you exactly the feedback you need, ending the search right here.
Step 3: Conduct Your Search
Google, Yellow Pages, and Angie's List are top sources for construction cleaning business reviews. Look at the online reviews and overall ratings, but treat this as one puzzle piece. Look at the bigger picture, and take the reviewer's work expectations into account.
Construction cleaning jobs can vary significantly from site to site. Similarly, client expectations can vary, depending on whether they were hiring janitorial service, residential maid service, or a construction cleaning crew. Try to focus on reviews from other construction cleaning clients.
Step 4: Ask the Right Questions
Once you've exhausted online reviews and construction cleaning service websites, you'll need to make a phone call and start a conversation. It's usually best to approach initial conversations with a list of interview questions.
Do they have references?
Client references can provide peace-of-mind. It's definitely a good sign if a cleaning business is able to furnish specific client references for construction site jobs, especially similar construction projects.
Can they walk you through their pricing/bid?
A pricing and bid process should guarantee project scope, pricing, and timeline. It shouldn't be a rough estimate that's subject to significant change. The most accurate bids involve an audit and project requirements, such as cleaning crew size, to accurately estimate the budget.
Can you meet the team lead for your building?
The team lead is an important part of successful delivery. The best construction cleaning companies treat staff as an asset. They invest in fair wages and continuous training to retain people over the long-term.
Are they insured? OSHA 10/OSHA 30 certified? Do they have the proper PPE?
Insurance is a crucial part of commercial cleaning service, especially at a construction site. If a cleaner isn't insured, there's a chance you could absorb liability after an accident.
OSHA 10 and 30 are familiar certifications for the construction industry. These are voluntary training on construction worksite safety and health. Cleaning crews aren't required to pursue OSHA, but it's a sign of construction industry specialization.
A cleaning crew should also furnish their own personal protection equipment (PPE) based on OSHA standards for construction sites. Face, foot, hand, head, and hearing protection are important to the safety of all crews who work on construction sites, including post-completion cleaners.
What kind of cleaners do they use?
High-quality cleaning agents make a difference in both safety and sparkle. Cleaners should avoid using harsh chemicals that compromise air quality before move-in. Eco-friendly cleaners get the job done, and they're safer for both workers and future tenants.
How can you monitor their work?
You shouldn't have to micromanage a construction cleaning crew. You do, however, want regular communication. Monitoring progress is important, especially on high-pressure timelines or large job sites.
Construction cleaning services may use different communication tools. The best businesses offer a mobile app for internal and external communications, so you can effortlessly monitor their work.
Step 5: Request a Site Visit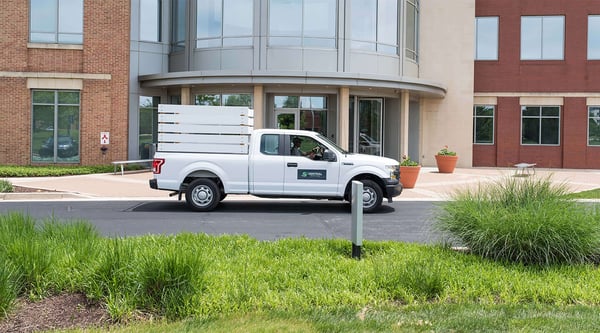 We provide an audit before working with any business because we want to ensure we're on the same page. Not every construction cleaner follows this protocol. Our full sweep audit for construction cleaning jobs is based on a three-part assessment protocol and standardized best practices for quality:
Site preparation
Professional cleaning
Finishing touches
Many construction cleaning services show up and do exactly what they're asked. This is better than businesses who don't deliver, but it's not the best idea. A cleaning crew should take time to assess your needs and educate you on project scope.
A site visit can help you understand your construction cleaning needs. It can also help you understand whether a cleaning provider's plan makes sense and whether they're knowledgeable about their work.
Step 6: Get Multiple Bids
Don't go all-in with the first company that looks good and fits your budget. Unless you're operating under an extremely tight timeline, take the time to get multiple bids and find the right company. Compare bids for budget, timeline, and scope with your research into cleaning service reputations to find someone you can rely on consistently.
Finding the Construction Cleaning Service You Need
Construction cleaning services shouldn't be an afterthought. However, sometimes reality sets in, and you're time-crunched to find a cleaning crew. You need a cleaning service that's affordable and flexible. You need someone who provides accurate site estimates before getting started.
Sentral Services has OSHA-certified crews ready to maintain your job sites, offices, and trailers. Our crews can manage specialty clearance requirements and certified projects.