Baltimore has no shortage of construction cleaning services. A quick search of Angie's List or Google reveals many options, many of which have solid ratings. How can you know for certain you're hiring the fastest provider? Who's the most reliable and flexible? Which is the most eco-friendly company?
While our construction cleaning services are first-class, we may not be the best fit for you. Every team has its own preferences and unique needs. You should embrace the incredible amount of options available instead of fighting it. There's plenty of choices to find a service to fit your specific requirements.
To help you find your best, we created a list of the six best construction cleaning services in Baltimore. You deserve to know not only who the top cleaning companies are, but where they excel.
6 Construction Cleaning Services in Baltimore You Need to Check Out
The best construction service companies in Baltimore include a range of options. There's both large international facilities management providers and small, locally-owned shops. All the companies on this list offer construction site cleaning, but many also offer complementary services such as environmental restoration, lawn care, and day labor. Services and specialties are one piece of data that can inform your search. Then you'll just need to do your research into their reputation, bidding process, and availability.
Remember, cheaper doesn't mean better. The costliest providers also might not offer the most value for your dollar. And while you may be limited on the time available to research construction cleaning services, there are certain ways you can decrease your search.
For example, we offer a custom cleaning proposal. Our online tool lets you select the services you need so we can provide you with a more accurate estimate on the work. This cuts the proposal time to a fraction of what it can take other businesses.
1. Metropolitan Maintenance Co.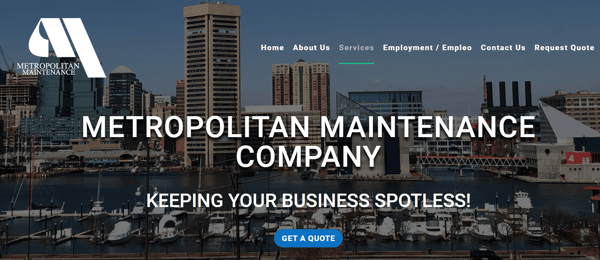 This company has offered business janitorial services in the Baltimore area since 1969. Metropolitan Maintenance Co. provides many services, including day porters and power washing. Other services include carpet cleaning, window washing, and marble restoration. Post-construction cleaning is another specialty.
Best For:
Those with changing demands. Metropolitan Maintenance Co. is responsive and flexible. They can handle changing client needs, such as day porter service or carpet cleaning.
2. ABM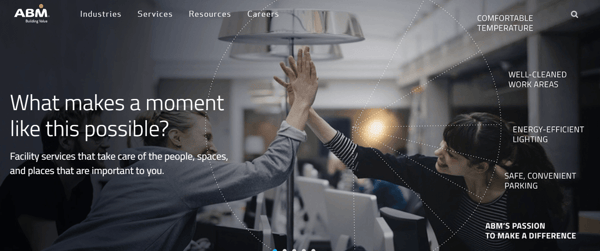 ABM is a multi-national facilities management service provider. They have locations in almost all US states, Puerto Rico, Canada, and the United Kingdom. ABM's Maryland presence includes offices in Baltimore, Beltsville, and Lanham.
ABM's services include commercial janitorial support, facilities engineering, and landscaping. Post-construction cleanup can include recycling, general maintenance, and floor care.
Best For:
International construction firms who need support nationwide, in the UK or Canada. Consider ABM the best if you need exterior cleaning or parking lot maintenance.
3. Extra Clean Inc.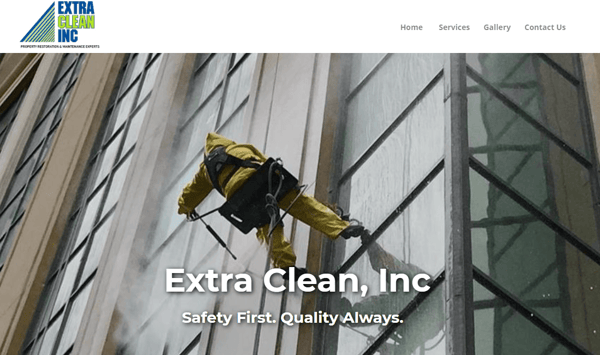 A leading source for "green" sustainable commercial cleaning service. Extra Clean, Inc. also provides a broad range of support services to commercial clients throughout Maryland.
Exterior restoration services include metal restoration, graffiti removal, and awning cleaning. Extra Clean provides final construction site-cleanup for clients near Gaithersburg, Maryland.
Best For:
Decreasing waste throughout construction jobs. Promoting the use of renewable resources. Extra Clean uses biodegradable cleaning products and supplies. They may work with clients to develop sustainability indicators for large projects.
4. Marathon Services

Marathon is a leading provider of environmental services in the greater DC area. According to its website, Marathon Services specializes in new construction. They perform final site cleaning projects at commercial, industrial, and residential construction projects.
Marathon Services offers a broad array of environmental services besides construction cleanup. This includes mold remediation, water damage, air quality services, and asbestos consulting. They also offer industrial equipment rental options for water removal and air quality.
Best for:
Marathon Services offers a unique focus on large-scale environmental remediation services. This includes Baltimore water damage or mold abatement. Marathon also may be best for projects that need 24/7 live customer support.
5. Final Touch Cleaning Services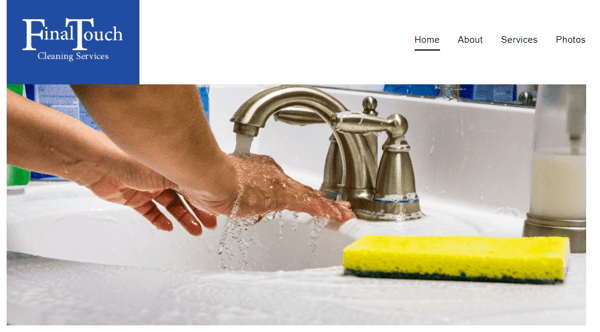 A "one-stop resource" for interior and exterior service in Baltimore since 2008. Final Touch Cleaning Services does residential and commercial projects of all sizes. Their offerings include single-room residential cleaning jobs and lawn care.
Other services offered by Final Touch include power washing and window cleaning. The website doesn't specify whether Final Touch offers complimentary on-site assessments. Instead, prospective clients should get in touch for estimate details.
Best For:
Bundling indoor and outdoor services. Final Touch Cleaning Services can help construction, commercial, and residential clients. They offer combined cleaning and lawn maintenance.
6. Sentral Services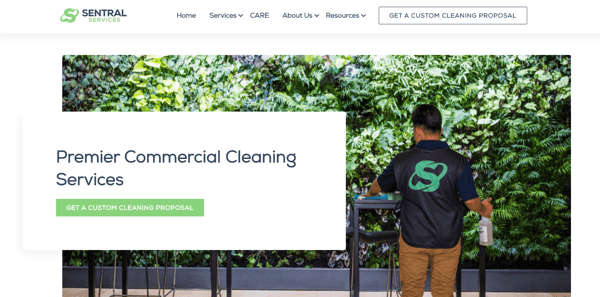 Sentral Services is a leading Baltimore construction cleaning service based in Baltimore, Maryland. We're a committed cleaning partner that specializes in more than sweeping floors. Our focus is on building lasting relationships with Maryland construction companies and contractors.
Our construction partners can enjoy buildings that are impressively-clean, chemically-safe, and eco-friendly. Our staff are highly-trained, OSHA-certified specialists. You can communicate and track progress every step of the way with our mobile app.
Sentral's Baltimore construction cleaning services include residential, commercial, and industrial projects. We also offer finishing touches to create an environment free of hazardous chemicals.
Best For:
A construction cleaning service that creates a healthier, safer environment. Construction can leave a lot of particles and dangerous items around. Don't let an environmental incident blemish the success of your project.
Selecting the Best Construction Cleaning Service for Your Needs
These six companies are the best construction cleanup providers in Baltimore. Next, narrow the list based on service options and needs. Including unique metal restoration or flood remediation projects. Use your shortlist as a launchpad for further research, interviews, and on-site estimates.