A lot goes into a name — take the janitorial services you're looking to hire, for example.
When checking out franchises, you probably see a lot of familiar names, and when something is familiar, we assume the best and trust it.
But, what if that assumption prevented you from choosing a local janitorial service that may be a better fit for your building's needs?
We understand that franchised janitorial services have their place and are a better fit for some companies.
We are a local business that cares about the community we serve. We want to make sure our customers are informed about the pros and cons of each. This way, you'll have a better idea about which type of janitorial services are the right fit for you.
Local Janitorial Services vs. Franchises: The Pros and Cons of Both
Many people think a well-known brand ensures the best quality service. This may not always be the case. Beyond that, while their offerings generally sound good, due to the standardized parameters set by their franchise, they may not have the flexibility to tailor to your business' unique needs.
Because of this, you need to consider all types of companies for your janitorial needs. Local janitorial services, like ours, offer custom proposals that bundle all your specific needs into one quote.
When you request a custom cleaning proposal, one of our experts will perform a walkthrough of your building and go over which services they see you need and why they recommend them.
We will provide, for your review, an itemized quote listing the services we discussed and agreed upon that includes a clear, detailed pricing list.
You can go ahead and request your custom cleaning proposal now, or keep reading to learn more about the differences between franchised and local janitorial services.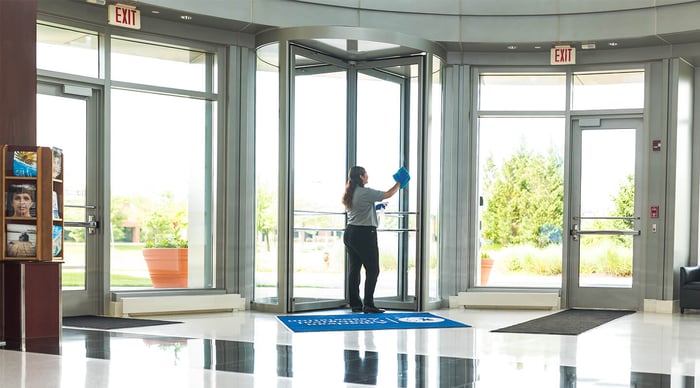 Franchised Janitorial Services
Franchise owners buy into a larger, nationally, or regionally owned business.
Starting a franchise is generally easier to do. The company relies on the name recognition from a larger entity and agrees to follow certain guidelines set by that company.
Franchised janitorial services promise cost-efficient services. There is always a risk, though, of unsatisfying results. Not every provider sharing the franchise name lives up to the reputation the parent company built.
They usually have a set of service packages you can choose from. You pick your package and request that particular service anywhere the parent company has a location.
But, if the services you receive are inadequate? Once you've contracted into this service agreement, you have no choice but to tolerate substandard service for the term of the agreement.
The cleaning supplies a company uses is another important piece you may want to consider. Do you want the cleaning company you hire to use a specialty product? Franchises dictate what cleaning supplies their branches utilize, so you won't be able to specify for them to use the product you want.
A corporation that's large and growing into multiple locations might be better suited to a franchised company. Local companies may find it hard to keep up with all your offices as you grow.
If the corporate office for your business makes decisions for several office locations, you will want to use a franchise if you need to contract with the same company for all locations.
Local Janitorial Services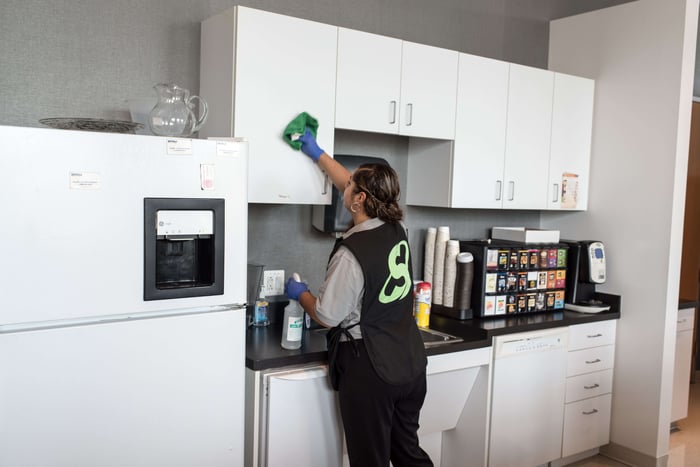 Someone who owns a business is continually working to build it up. They're focused on providing exceptional service so they can grow word-of-mouth business. Locally owned businesses have control over what they can deliver for their clients, so they will work closely with you to keep you satisfied with their service.
A local janitorial services' eagerness to please is excellent for you as a customer. It gives you more flexibility to pick and choose the services you need and want (including the types of cleaners).
A local company's owners are deeply invested in their business, so they spend plenty of time ensuring they hire the best staff.
Finding a local company is tough, however. Many of them have simple websites that lack information on their company and the services they provide if they have one at all.
Taking the time to look for local services is well worth the effort when you find a company that is a good fit for your needs.
Franchise vs. Local Janitorial Services: Which is Best For You?
There is no one size fits all. What's best for someone else, isn't always what is best for you.
You need to consider the size of your building and what type of business/facility you have, is it office, retail, lab, manufacturing, etc. How many locations do you need service for, and what types of cleaning products you want the janitorial staff using.
The more aware you are about your needs and wants, the more time you'll save in your search for janitorial services. You'll have an easier time matching requirements to the services provided by the companies you might want to hire.
Let's quickly recap the pros and cons of franchise vs. local janitorial services so you can see an "apples to apples" comparison.
Franchised Janitorial Services: The Pros vs. Cons
| | |
| --- | --- |
| Pros | Cons |
| You can choose a generalized package of services that might seem more cost-efficient. | You may not need all the services offered in a service package. |
| You trust a well-known name and assume a certain level of service based on the parent company's claims. | Franchise owners buy into a larger corporation, and they may or may not live up to the parent company's standards. |
| They have several locations in different cities and states, which is better for large companies with multiple locations needing services. | The franchise only allows their approved cleaners and supplies, so you can't request for them to use a specialty product. |
Local Janitorial Services: The Pros vs. Cons
| | |
| --- | --- |
| Pros | Cons |
| The owner is highly invested in his company, the quality of services his company provides, and the people he hires. | It's hard to find local companies because they have bare-bones websites that don't provide enough information about their company and services. |
| You have more control over the services you choose, so you're not stuck paying for more than you need. | They are better suited for smaller companies with fewer localized locations. |
| You can request for them to use special cleaners or supplies. | |
Want to get an idea of what a local business is capable of delivering?
Our experts at Sentral Services would be happy to perform a walkthrough of your building to assess your needs.
We'll tell you exactly what services you have to have, as well as what it's going to cost.
Request your custom cleaning proposal today to find out if our local janitorial services are the right fit for you.