Researching janitorial cleaning companies is a task no one's thrilled to have to do.
Still, cleaning is a requirement that grows more important by the day. Unless your building screams "clean" when people walk in, you risk losing customers and employees. They will find other places that better meet their needs and provide a sense of sanitized security.
To help with your search, we've built a list of the companies with the best reputations around Baltimore, MD. We understand that every building has different needs, but you're guaranteed to find a company that can help below.
The 9 Top Janitorial Cleaning Companies in Baltimore, MD
There are many janitorial cleaning companies in Baltimore, Maryland, but you don't want to pick one at random, they aren't a one size fits all kind of thing.
It's essential to do your research and find the one best suited for your business's needs. At Sentral Services, we know your time is valuable, so we did the groundwork for you. Request your custom cleaning proposal from us now, and browse the list below to find the right cleaning services for your company.
1. Sentral Services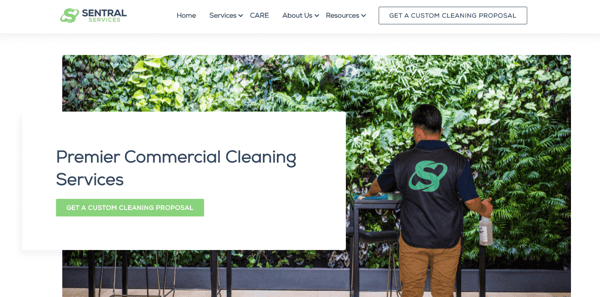 Sentral Services is committed to providing a premium service by getting to know our clients and their building. This helps us customize the perfect cleaning proposal for you, and it allows us to work within your budget.
We use the best materials, tools, and equipment on the market to ensure our team delivers their best work on every job.
Some of the cleaning services we offer include:
Carpet care
Specialty floor cleaning and restoration
Restroom sanitation
Window cleaning
Power washing
We believe that when you work with the right people, you'll get better results. You'll find there is less waste, more consistency, and your facility is a healthy, cleaner environment for your tenants, their employees, and customers.
"Ever since Sentral Services took over here, it has been so amazing. One of the best things about Sentral Services is that I know I can count on them to respond quickly, and when they do, they make it right. If there is a concern, their communication is great! I like the pictures they send also. It's a great experience working with the team. I can't say enough about them...they make us look great!" - Kathy Gagnon, Facilities Coordinator with Under Armour Headquarters
Request your free custom cleaning proposal now.
2. Bravo Group Services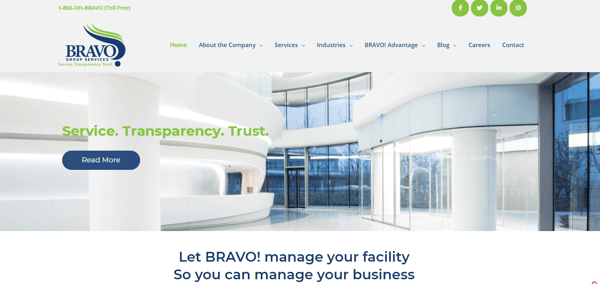 Bravo Group Services is a woman-owned janitorial cleaning company headquartered in New Jersey that currently offers services in sixteen different states.
This company offers commercial janitorial services for several different industries, including healthcare and educational facilities.
Some of the services they provide include:
Pressure washing
Maintenance cleaning
Recycling
Window cleaning
Upholstery cleaning
"We create healthy environments, providing facility solutions, and allowing our customers to focus on what matters most" - Bravo Group Services.
3. Presidential Service Industries, Inc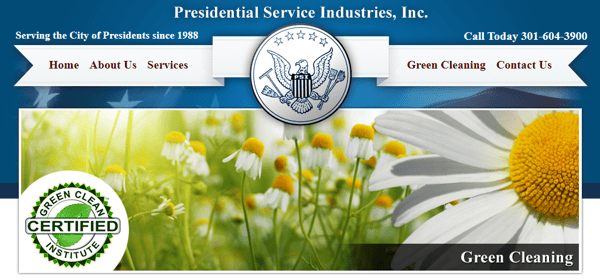 Presidential Service Industries, Inc. is a family-owned and operated commercial cleaning business formed in 1988 to deliver service as promised.
Over the last thirty-one years, they have become one of the most trusted cleaning services in industrial cleaning, as well as schools, offices, and medical facilities in our area.
Some of the services they offer include:
Facility maintenance
Construction site cleaning
Industrial cleaning
Apartment complex cleaning
"Our dedication to the client, backed by the belief that hiring quality employees results in a quality product, has brought us a great degree of success." -Presidential Service Industries, Inc.
4. Red Coats, Inc

In 1960, Red Coats, Inc launched its business with only 12 employees, but since then, they have had exponential growth and now employ over 7500 personnel.
They are a Green Seal GS-42 certified janitorial cleaning company providing services in five different states.
We provide our customers the standard of service desired at the fairest possible price, and to ensure the continuation of our reputation for quality and value" - Red Coats, Inc
Red Coats, Inc doesn't have a list of services they provide on their website, so you will need to contact them to find out if they offer the services you need.
5. A 360 Cleaning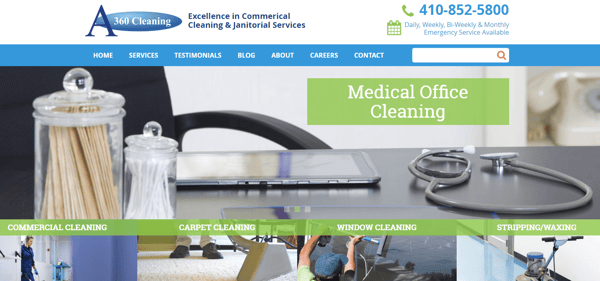 A 360 Cleaning has been in the office cleaning and commercial janitorial business since 2004 and is committed to providing the best service possible.
They are a Baltimore based company that serves Maryland, Annapolis, and surrounding areas.
They specialize in the commercial cleaning of medical offices, construction clean up, retail store cleaning, and event clean up.
Some of the services they offer include:
Trash Removal
Kitchen and bathroom sanitizing
Vacuuming
Sweeping and mopping floors
Dusting and wiping down surfaces
Providing office cleaning and commercial janitorial services since 2004
"We strive to ensure that every customer is completely satisfied with our services. We accomplish this by building relationships and exceeding our client's expectations while maintaining our dedication to the highest moral principles." - A 360 Cleaning
6. Safeguard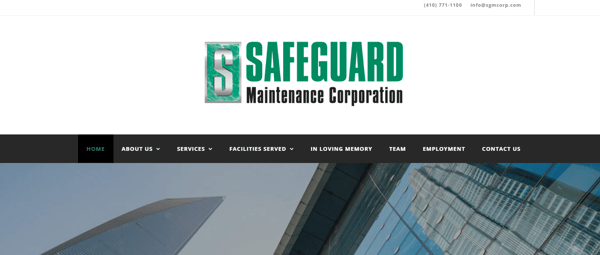 Safeguard, started in 1976, currently operates in six different states. They have accounts with government agencies, schools, medical facilities, SCIF spaces, and more.
They are specialized in government and commercial secured facility maintenance.
At Safeguard, they use a green cleaning plan to help reduce the impact of cleaning on the environment and their clients. They offer a comprehensive array of cleaning services.
Some services they offer include:
Dusting blinds
Vacuuming carpets
Glass cleaning
Sanitizing fixtures and other surfaces
"Safeguard believes we are greater as a whole than our individual parts and every team member is accountable for a buildings success" -Safeguard
7. Down to the Dust Cleaning Services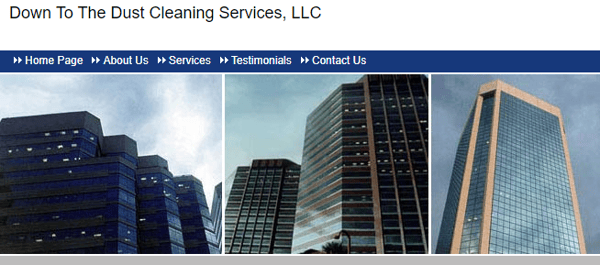 They offer a comprehensive list of services. They operate in the state of Maryland & have accounts in Baltimore, Washington DC, and surrounding areas.
They handle small and large facility janitorial services in schools, offices, commercial kitchens, and more. They recruit only well-trained, experienced members to join their OSHA certified staff.
At Down to Dust Cleaning Services, they also offer referral incentives for their customers.
Some of the services they offer include:
Interior and exterior cleaning
All surface disinfecting
Complete bathroom cleaning
Ceiling fan dusting
Mirror cleaning
8. Metropolitan Maintenance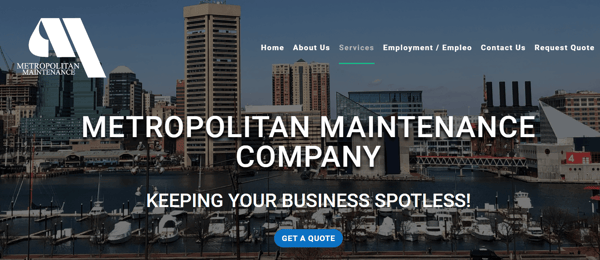 Metropolitan Maintenance started in 1969 as a small, start-up cleaning business transformed into one of the largest locally owned commercial cleaning companies in Maryland. They serve Baltimore and the surrounding metropolitan area.
They provide commercial cleaning for colleges, sports complexes, malls, and flex warehouses.
Cleaning is the specialty service offered at this company, but they continually add other services such as:
Day Porter service
Restoration of Marble, Terrazzo, Ceramic, and VCT.
Carpet cleaning
Power washing
Their company ethos is "Our company's ethos is to build a strong relationship with our customers. By fully understanding your needs, we meet or exceed your expectations." - Metropolitan Maintenance
9. ABM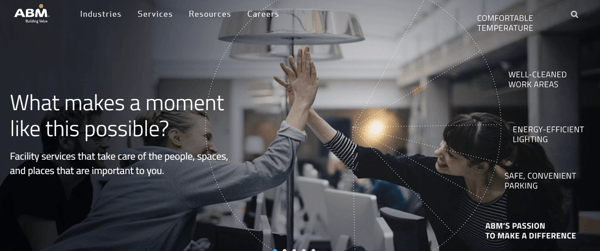 Started in 1909, ABM services over fifteen different industries. The wide array of businesses they provide commercial cleaning span from aviation to healthcare.
ABM doesn't provide a list of their services on their website, but, they do state that they offer a full range of services.
All of their employees attend advanced safety training courses to ensure they use the appropriate equipment and educate them on chemicals used in cleaning supplies.
Green cleaning is a fundamental part of all their janitorial cleaning contracts, whether your business needs a basic cleaning program or you require a LEED-certified clean.
Which Janitorial Cleaning Company is Best For You?
While any of the janitorial cleaning companies mentioned in this article would probably work when spring cleaning your building, you must pick the best one for you.
Customer service, budget, and availability are all things to consider when picking a company for your commercial cleaning needs.
At Sentral Services, we want you to know that we value your time and money, and we won't waste either one.
One of our experts will visit your building and walkthrough with you. Getting to know you and your commercial space will help us tailor a custom cleaning proposal that is perfect for your budget.
"Platt Development Group has been using the services of Sentral for over six years. Before Sentral, I went through three cleaners in under 2 years! I have been extremely satisfied with this professional group of men and women. Their crews are always dependable and thorough and there has never been a time that I have not been able to count on Sentral for emergency service." - Theresa Beckner, Vice President of Platt Development Group