Some buildings are a better fit for in-house janitorial teams.
There, we said it. Not every building needs a janitorial cleaning company to manage their cleaning.
For some, it's overkill. You don't need a cleaning company to come in at night and have your building sparkling by morning.
Maybe it's because you don't have that much traffic. Maybe your employees clean up after themselves already.
On the other end of the spectrum, you may have a building that could benefit dramatically from an experienced team handling the cleaning duties.
There are plenty of reasons to hire staff to manage cleaning, but there may be even more reason to outsource. Here's a list of pros and cons for each, so you can decide what's best for your building.
Pros and Cons: In-House Staff vs. Janitorial Cleaning Companies
For many, the decision will come down to price. But rather than looking just at what you'll be saving, you should consider how you could potentially miss out.
Poorly maintained buildings bring more problems in the long run, including the replacement of materials like floors and carpets, not to mention the degraded reputation caused by having a dirty building.
Instead of focusing entirely on the cost, you should determine the actual value you'll gain from outsourcing janitorial services for your business.
Over half of all commercial cleaning companies see a decrease in their business when their clients aren't satisfied with their services.
At Sentral Services, we understand that we're not always a good fit for every company.
That's why we offer custom proposals, so you know that you're getting value from the services we offer, and we'll be honest with you if we think that you would be better off using an in-house staff instead.
When we create a custom quote, you'll get a price for exactly what you need, and we'll even conduct a walkthrough to offer recommendations on which services would be best for your building.
Request your custom proposal now, or keep reading to dive into the pros and cons of choosing a janitorial cleaning company vs. hiring in-house staff.
In House Pros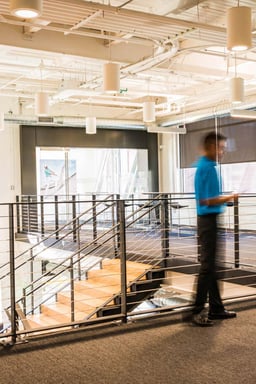 Do you have a smaller building with less than a handful of employees? Unless your building needs a deep clean or you have specialized cleaning needs, an in-house team might be a better fit for you.
Scheduling
Does your staff use the building at odd hours? You might be better off with an in-house team that has a more flexible schedule.
For example, a university has students coming in at all hours of the day and night.
It might make more sense to have an in-house team that can come clean early in the morning rather than at night because that's when they have the least amount of staff and students in the building.
Security
You might be uncomfortable with the idea of hiring a company to send workers you've never met before into your locked building to clean.
You may not want to grant them access to rooms with critical documents or expensive equipment that could be stolen. This might make you feel like hiring someone in-house would be a better choice.
At Sentral Services, we take your concerns seriously, and that's why we perform background checks on every employee we hire. We even supervise new employees for a specific length of time before allowing them to clean in rooms alone.
As long as you are careful about the company you hire and ask them about their hiring process, you can rest assured that your building is safe and will be sparkling clean.
Related Reading: Commercial Cleaning Services: 6 Questions to Ask Before Hiring
In House Cons
Supply Costs
An in-house team will cost you more. Besides the extra time and employment expenses of hiring someone, you will pay more for the cleaning supplies they use—such as cleaners, mop heads, paper towels, etc.
An outsourced team often gets sizable discounts for buying their supplies in bulk, and they typically pass on those savings to their clients.
The longer you rely on an in-house team to meet your needs, the more you are going to pay in supply costs over time.
If your building is small and you have only a few employees, you might come out cheaper with an in-house team, however, because you aren't paying for services you don't need when they come clean.
Budgeting
Relying on an in-house team for your cleaning needs when you're working with a tight budget isn't ideal.
It means that there is cleaning left undone, or you'll have to make room in the budget to pay for the services you need.
An excellent commercial cleaning company, like Sentral Services, will find a way to align your needs with your budget. Even if that means you reduce the frequency of cleanings or the number of services you pay for in lower-traffic areas.
Related Reading: What Does a Commercial Cleaning Service Cost in 2020?
Outsourced Pros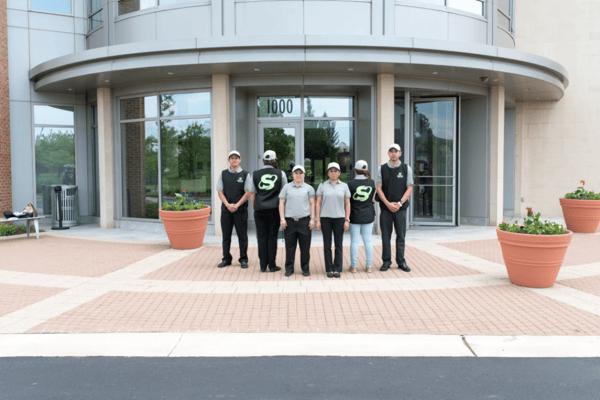 Now that we've covered the pros and cons of hiring an in-house cleaning team, let's look at the pros and cons of outsourcing the work instead.
Focus
Hiring an outsourced team allows you the freedom to focus on what you're good at—which is running your business.
When you hire an outsourced team like Sentral Services, you can let us worry about the cleanliness of your building.
We even offer an app that lets you monitor the progress of our cleaning crew without having to sacrifice valuable time to call us for an answer.
Training
At Sentral Services, we're committed to providing the best quality cleaning service and earning your continued trust.
We take the job of hiring and training new employees very seriously because we want you to know you can trust the people we hire when they come to clean your building.
Each new hire undergoes training to learn specific cleaning techniques for certain areas, and as we mentioned earlier, they are supervised by a trainer for a while before being left to clean in a room alone.
Related Reading: How to Find the Best Janitorial Services for Your Commercial Space
Outsourced Cons
Initial Price Tag
The initial cost may be a little off-putting at the start, but it's a better investment for you in the long run.
When you choose an outsourced cleaning company like Sentral Services, you don't have to pay the cleaning staff for benefits, time off, or other job perks—you only pay for the services and supplies used.
Over time, the costs of outsourcing a cleaning service are significantly less than what you pay to hire an in-house team.
In-House Staff vs. Janitorial Cleaning Companies: Which is Best For You?
Are you concerned that your budget is too small to allow for the cost of hiring an outsourced cleaning company?
Let us ease your concerns by creating a custom proposal just for you.
When you request a custom proposal, one of our experts will reach out to you and schedule a day and time to perform a walkthrough.
During the walkthrough, they'll take a look at your building and point out all the services they think you need.
After the walkthrough, you'll get a detailed report, and you can ask questions or negotiate what services you want based on the limitations of your budget.
So, what are you waiting for?
Find out if Sentral Services is a good fit for you by requesting your custom proposal now.